Tina Stewart View Profile

Editorial Assistant |
Princess Yachts to Debut Two New Models at 2013 London Boat Show
Posted: Nov. 19th, 2012 | Comments 0 | Make a Comment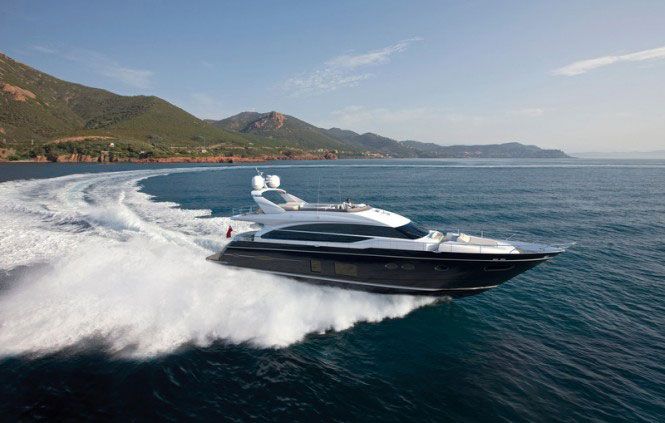 Photo Courtesy of Princess Yachts
Perhaps it is easier to forget about the depressing state of the economy when you are miles out to sea on a super decadent yacht. Actually, if you are on a yacht, you might not be worrying about much, except which vintage to uncork for dinner. According to CharterWorld,
luxury yacht
company Princess Yachts is lifting spirits with the debut of two new models at the 2013 London Boat Show. Making their international premiere, Princess 52 and Motor Yacht Princess 82 will be the central focus of a 10-boat display inside London's ExCel Exhibition center. With several new models to showcase, including the largest yacht they have ever constructed, the 40 M super yacht, Princess has been very busy this year building boats for the super wealthy.

At 82 feet long, the Princess 82 is the larger of the two flybridges to be displayed. Princess promises it to be "elegant, powerful, and incredibly spacious." To increase visual space, the high-end yacht has been outfitted with two rows of long, elegant windows which provide ample natural light to the main deck saloon. The windows also create a sleek and appealing exterior. Also on the main deck is a large cockpit with a teak table, seating for guests, intimate foredeck seating, and a sunbathing area for privacy.
The saloon incorporates a large dining table and plenty of space. On the flybridge is another area for entertainment, dining, and sunbathing, as well as a wet bar. For those considering the charter market, the formal dining area is positioned forward and separated from the wheelhouse by the galley to ensure privacy.

The lower deck space is "especially large for this size of yacht" and guest accommodations are provided by four cabins with private baths. The master cabin takes advantage of the full beam with windows opening to both sides. Between the master and the forward VIP cabin is a twin cabin to port and a double stateroom to starboard. You can accommodate crew — or any extra loud guests — in the twin en-suite cabin aft of the machinery space. If needed, a utility area can even be specified as a second twin cabin.

The smaller of the two flybridges is the Princess 52, designed to replace the Princess 50 Model. Definitely not tight on space, her cockpit comes equipped with a teak dining table and enough seating for seven. The galley is aft of the saloon and shade is provided by the flybridge overhead. Wide windows provide the main deck with rich amounts of natural light, sun permitting. On the flybridge is ample seating, a convertible sun-bed, an outdoor dining table, and an optional wet-bar. In case the party gets a little too rowdy, there are wide side decks and teak-laid steps to reassure safe movement around the boat. Also on board is an optional hydraulic raise/lower mechanism which can transform the bathing platform into a submersible beach or be used to launch and recover a tender.
With the galley on the main deck, there is enough space below for three cabins, with the master and forward cabin having private bathrooms. The full beam master stateroom features large hull windows on either side. There is an optional aft cabin with toilet for crew or guests.

The Princess 82 is constructed using "advanced technology" and has a uniquely designed, resin infused deep-V hull. The Princess Yacht team has been employing resin fusion technology for several years, finding it very beneficial in terms of final weight, rigidity, and performance. Apparently, it greatly reduces emissions during the manufacturing process which is in line with the company's eco-policies. (Princess Yachts were the first major European boat builder to be awarded ISO 14001 environmental award). Additionally, the Princess 52's resin-infused hull features the latest deep-V design to produce "exceptional sea-keeping while reducing planing speeds for an efficient performance across a broad speed range. "Her hull effectively reduces weight and increases performance with less power making her 'one of the most efficient yachts of her class," says the company.

Princess Yachts International was founded in 1965 in Plymouth, UK, and has five decades of experience in building some of the "world's finest motor yachts." Classes include the flybridge line, the V-Class sports yachts, long-range motor yachts, and the M-Class super yachts. As a member of the luxury group Moet Hennessy Louis Vuitton, they "don't meet standards, they set new ones." The London Boat show will be held from January 12-20, 2013 at London's ExCel Exhibition Center.
Read More on
PrincessYachts.com
You might like :
Luxury Yachts
Related Topics : Yachts, Boat Shows, Lifestyle News
Finding the best in luxury can be a daunting task, which is why we've taken it on for you.
LET'S CONNECT LUXURY NEWS & MORE