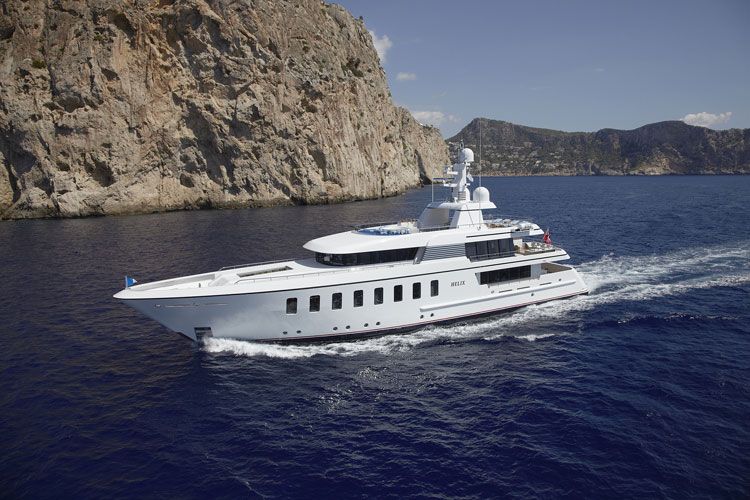 Photo Courtesy of Feadship
Emerging Asian economies have blessed a lucky few with new-found wealth, which begs the question — how does an industrial billionaire from Singapore or Hong Kong like to blow off steam after a hard day's work? Feadship yacht builders believe it may very well be on its
luxury superyacht
— the 147-foot Helix. After being heavily promoted in the Far East region — making its rounds through several countries while breaking some firsts — the award-winning Helix is up for sale and headed to the Mediterranean for the upcoming 2013 season.
Lucky buyers can claim ownership to the mega-yacht for the value price of $39.6 million. No, the decimal isn't in the wrong place. The asking price has actually been reduced and Feadship Director Jan-Bart Verkuyl explains that because it has been "maintained in as-new condition, the Helix represents phenomenal value at the current asking price." For scoffers who have yet to purchase a bespoke yacht, there might be some serious truth to this statement.
For starters, the company, Feadship: Royal Dutch Shipyards, lists itself as the world's premier builder of customized superyachts, with its 1849 beginnings in the Netherlands. Feadship yachts are created in conjunction with the client's continual input. Definitely not a run-of-the-mill boat, the Helix has all the custom trimmings one would expect from a multi-million dollar ship, like mirrored walls, marble accents, and a spacious deck outfitted with a hot tub. It has even won various awards, including the World Superyacht Award.
During its 2012 Far East tour, the Helix managed to impress a number of VIPs. Luxury this grand isn't accomplished by just floating around at the harbor looking pretty — the yacht traveled to remote areas of Indonesia, as well as parts of Singapore, China, and Thailand – during all of which receiving important guests onboard.
While in China, the Helix made appearances at numerous Chinese boat shows, and impressed one client so much that Feadship made the first sale ever of a custom yacht by a 'western yard' to someone from the Chinese mainland. The Helix set another first as it was the first superyacht to be allowed to sail up the Pearl River. Wā Sāi! (that's Mandarin for wow).
Feadship informs potential buyers that guests have liked the fact that all staterooms are located on the main deck, thereby offering great views. Just from the photos, one can see that the ship has a beautifully appointed color scheme of dark brown and light beige, with wooden planked floors and leather furniture. The owner's stateroom has a cozy sitting area and a decadent skylight above the bed, and its bathroom has lovely marble floors, great mirrors, and custom counter-tops. According to the company, to acquire the Helix is to enjoy 2013 in style — and who wants to be seen without their very own superyacht this year?