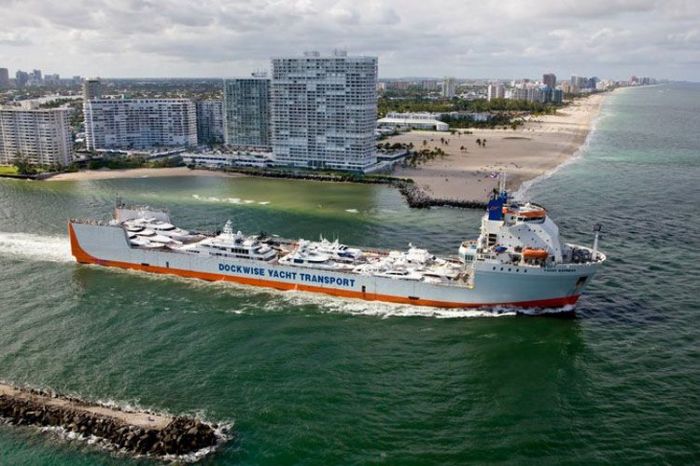 Photo Courtesy of Dockwise Yacht Transport
Many people envision luxury yacht owners sailing the sea to various exotic locations all over the world, especially now that Spring has hit, but those who actually own them know that transoceanic trips can do a lot of damage to their precious vessels. According to the
DailyMail
, a journey across the Atlantic Ocean (from the French Riviera to the Caribbean perhaps) can take three weeks, wearing on the yacht in ways that might require a new paint job and many repairs by the time you arrive. Luckily there's a growing industry that will carry your boat across the Atlantic for you, avoiding nasty wear-and-tear and enabling you to skip the lengthy journey by hopping on a plane instead.
For $175,000,
Dockwise Yacht Transport
is one of the biggest companies in this new industry, having launched back in 2008 with its maiden voyage carrying $154 million in yachts. With the deck of their 687-foot Yacht Express being semi-submersible, all you have to do is float your pricey yacht on board without worrying about cranes doing any damage. Once it's in place, your boat is tied down for its voyage across the sea. Built specifically for the transport of yachts, sailboats, powerboats and other private vessels, the Yacht Express makes sailing across the world pretty easy for owners who don't actually want to do the sailing. If you want to stay with your boat, Dockwise offers accommodations that include complimentary cabins, a lounge bar, swimming pool, cinema, restaurant, media and fitness facilities.