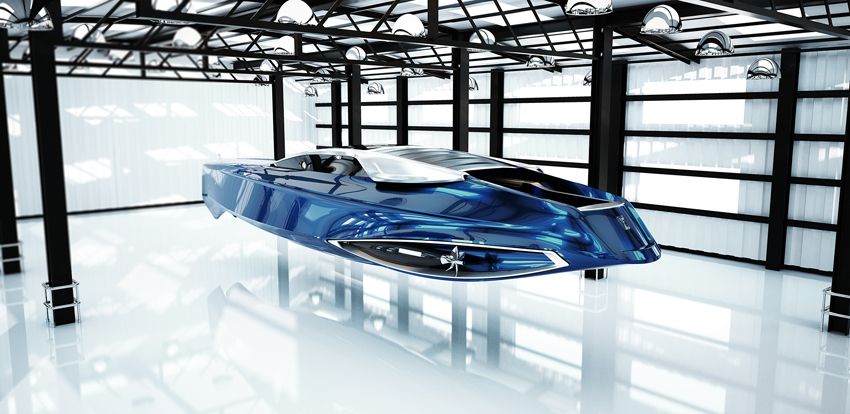 Photos Courtesy of Stefan Monro
Rolls-Royce has nabbed themselves one heck of a designer in Stefan Monro, who created this Rolls-Royce 450EX yacht tender concept as his year-end project while studying Transport Design at Coventry University. The luxury yacht design came to him after completing a six month internship with the auto brand in the summer of 2012, and though the 450EX isn't officially associated with the Rolls-Royce brand, it certainly showcased his talent and led to his being hired as a Bespoke designer.
The internship was a little overwhelming for Monro at first, because "the idea that you have an opportunity to have an influence on the most luxurious automobile in existence builds a level of excitement and pressure." Since the auto brand immediately threw projects and interaction his way, the pressure was quickly absolved and replaced with constant activity and excitement. "I learned a lot about the auto industry in general but it was the attention to detail and precise requirements of the brand that was the biggest learning curve."
450EX references the overall length of 45.0 feet and the design's experimental nature (EX). The design brings the auto and yacht market together, showing the potential for future partnerships between the two. Monro avoided using any literal car features, which can often look forced, and instead brought in elements to an existing hull and adding recognizable Rolls-Royce brand details. The tender's interior features four executive seats that immediately bring a luxury auto to mind, each featuring the Royce logo, as well as two pilot seats. There's also a bathroom and a bow entrance.
"My favorite aspect of the concept is that it is a concept, this allowed me to push the boundaries of what is achievable in production reality, similar to show cars at motor shows. I am most proud of the understated nature of the design, remove the Spirit of Ecstasy and the Rolls-Royce branding and it still is unquestionably 'Rolls-Royce'."
Now that Monro works as a Bespoke designer at Rolls-Royce headquarters in Goodwood, England, he's able to use his imagination to combine customer requests with their auto model of choice. "The project showcased my ability to interpret and understand the design language of the brand and utilize this in an alternative industrial design sector," he says. "In turn, the yacht market and luxury automotive market share many of the same interests and client base."
Since the 450EX is a concept design and isn't officially associated with Rolls-Royce, it probably won't ever be put into production. However, you can check out the physical scale model at the brand's headquarters. Plus, now that you know what Monro can do, you can at least get your dream one-off bespoke luxury car.