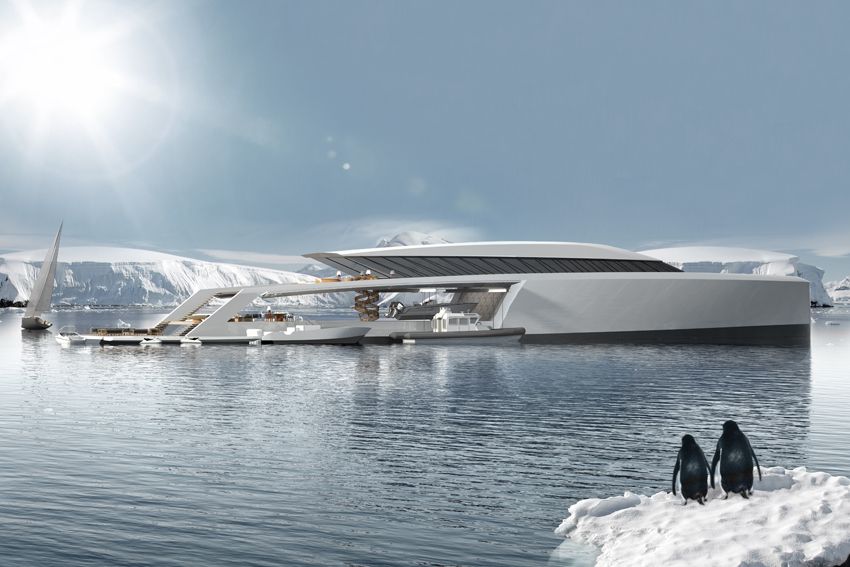 Photos Courtesy of Pastrovich Studio
The Monaco-based design studio Pastrovich recently unveiled four yacht class categories, each one meant to represent a different personality aspect to cater to certain buyers. Their newest 90-meter X-Kid Stuff motor yacht concept falls into the Parkour Class, meant to give the owner a balance of style and function.
"The yacht is a seamless match to its owner, it blurs the lines between absolute luxury and utility. The hangar becomes a part of its everyday life, the toys become your bucket and spade […] they are tools, tools for exploration and tools for fun," asserts the company, who started from scratch to get the yacht just right.
Inspired by nature (and especially beehives), the vessel was designed to be as strong as it can be while using the minimum amount of materials. With the entire hull made out of carbon fiber and the floating decks made with titanium, the motor yacht is pretty light. They also made the unique choice of exposing the ducting, wires, and pipes, giving the boat a space ship-like feel.
With room to store jet skis and even explorer ribs up to 15m, the 90-meter X-Kid Stuff comes with an inflatable jetty that makes transport to the beach super easy by allowing you to simply walk to the beach. You can even use it to transfer heavy objects to and from the beach, like motorcycles and cars.
The other three Unconventional Vessel Classes are Backpacker, Dressage, and Freerider, and we can't wait to see what other concepts they come up with for each.