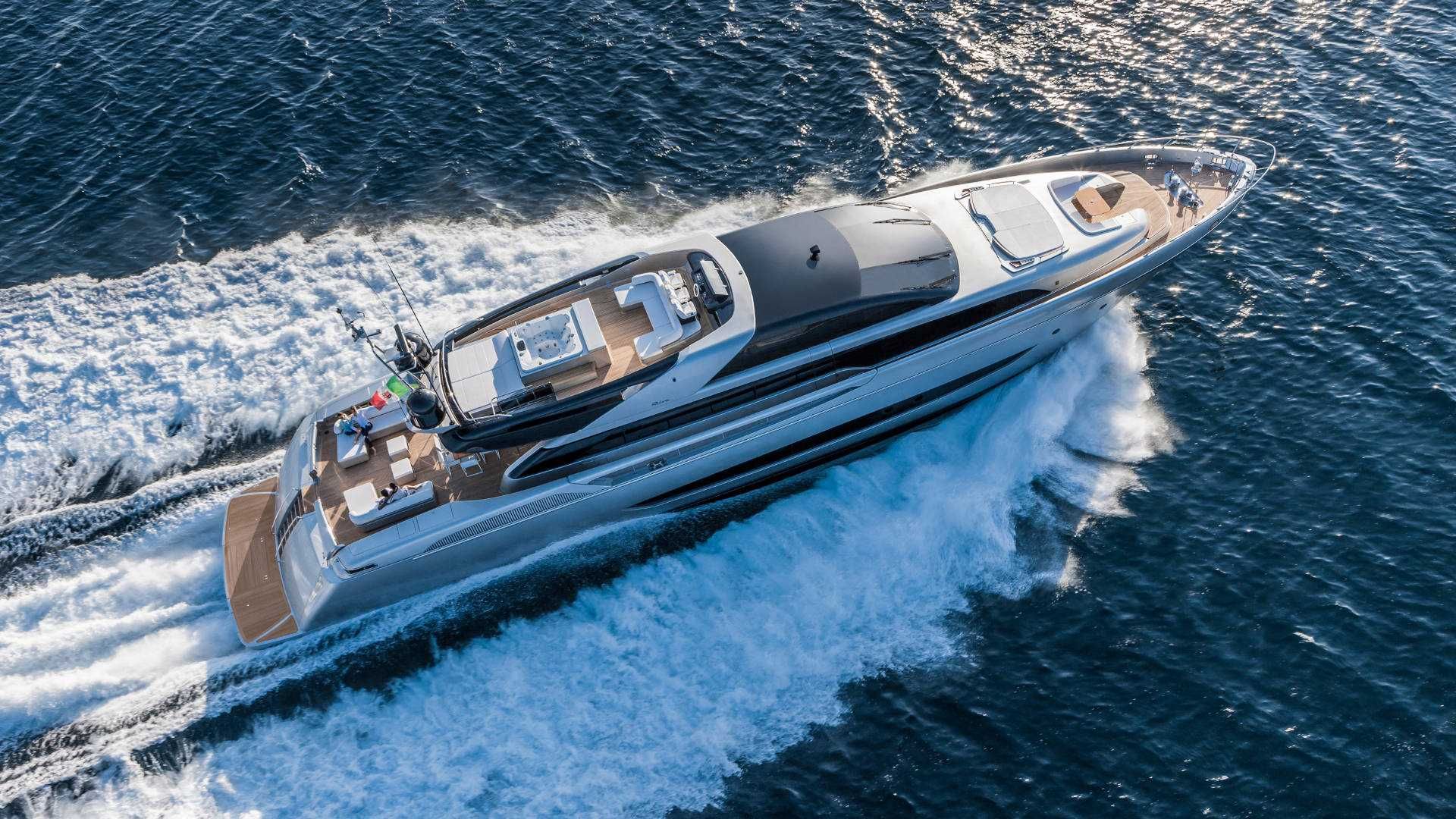 Photos Courtesy of Riva
Riva recently presented its newest flagship luxury yacht, the 122' Mythos Sol, which is the biggest aluminum planning yacht that the shipyard has ever produced. You may recognize the design from the planning images we first showed you back in late 2012. The new yacht draws inspiration from the company's bestselling 86' Domino, especially in its stylistic elements.
Weighing in at over 35 tons, the vessel is 37 meters in length (which is almost 122 feet) and has a 7.60 meter beam (nearly 25 feet). The coupé vessel's standard version has three or four cabins, with an optional layout of five cabins available. Mythos was designed by the same company who does Riva's entire range, Officina Italiana Design, and more specifically, head designer Maurio Micheli and CEO Sergio Beretta.
"Talking about a boat is always more difficult than designing it. The concept and lines of the 122' were conceived in about 10 minutes; what really makes a difference and makes this model truly unique is the time devoted to defining its details," says Micheli. "The 122' Mythos stems from pure instinct—this is why I am convinced it will be successful for a long time, just like the Aquariva, the Rivarama and the Rivale, which are still being produced after so many years."
Promising that the luxury yacht is 100 percent a Riva model, the company is quick to point out its "clean lines, […] painstaking care for details, the selection of traditional and yet 'evergreen' materials—like steel, wood and leather—which give every Riva yacht a unique, timeless flair." With dual MTU 12 V 4000 M 93L, 3510mhp engines, Mythos can reach a top recorded speed of 28.5 knots (around 32.7mph) and a cruising speed of 26 knots (almost 30mph).
"An owner of a Riva yacht myself, it is as if a new child or a new travel companion had joined our Riva family. A family which would well fit in a novel by Garcia Marquez: with a more than a century old history made up of a multitude of different lives and experiences, disseminated all over the world throughout all these years. Celebrating the new 'Heir' of this history, namely the 122' Mythos—the brand's flagship as well as its most futuristic product—is simply extraordinary," explains Galassi, Ferretti Group's CEO.
"We believe that with everybody's efforts within the Ferretti Group, we will succeed in taking this 'newborn' and the Riva brand as a whole to even higher goals, while getting stronger in all our loyal markets and penetrating new emerging ones. Indeed, while Riva is an icon of Made in Italy production, ingenious design, production excellence, and much appreciated style, from now on the 122' Mythos will be its standard-bearer."