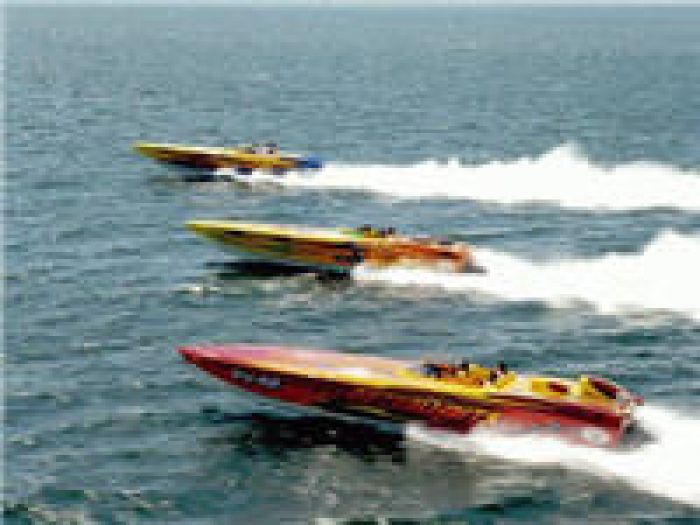 Powerboats:
Luxury boating used to be "yachting" but in today's recreational boating world, the trend is bigger, faster, and better powerboats and power packages. Forty-plus foot custom-built powerboats with high-speed engines are geared toward customers with the need for speed, who will not sacrifice luxury for performance. For $750,000 to $1 million-plus, a boater who wants to have it all, can.
In the 1960s and 70s -- powerboating's "hayday" -- when America caught the go-fast frenzy, 50 mph was fast. In long-distance, rough water offshore races, from
Miami
to Nassau or
Los Angeles
to San Francisco, rugged men bore the brunt of the sea without safety equipment, seats or high-tech electronics. Now, 100 mph is easily achievable -- if you have the budget or lack of one -- and fun is the goal, not glory or trophies. Seats are plush leather with electric and hydraulic adjustments. Engines and gauges are computer-synchronized to provide diagnostic tools. Navigation is managed by GPS, so your navigator or riding mechanic is now on your dashboard instead of in the co-pilot seat!
New super-charged, high-horsepower engines make big boats easier to handle so moving up from a smaller, less powerful boat to a top-of-the-line, top-speed performance boat becomes an attainable luxury for recreational boaters--not just racers. Cruising at 80 mph can feel boring when your friends zip by at triple digits. Call it "power envy."
But speed is only part of the equation, as stunning good looks are also high on the priority scale. Today's powerboater likes to "wear" his beautiful acquisition proudly and customization is his fashion statement. The boat's model, elaborate paint scheme, cockpit and cabin decor, entertainment system and other accoutrements speak to the fine style and economic "wherewithal" (or wear-with-all) of the owner--just like his designer suit, custom motorcycle or sports car.
This is not your father's powerboat. Forget the stereo type of a middle-aged man with a big belly, gold chains, and a young, bodacious woman on his arm. The new powerboat customer is a youthful entrepreneur who enjoys boating with friends and family -- they are more a product of the Baby Boom or Generation X than of mid-life crisis and simply love life in the fast lane.
Bigger, faster better has created a new meaning for "sport yacht" and the custom-built performance boat market is skyrocketing. Once you've hit 100 mph, there's no going back to 50!
By Marilyn DeMartini
Marketing Director
Outerlimits Powerboats
www.OuterLimitsPowerboats.com
JustLuxé Contributor