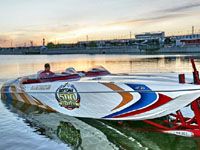 Water Toys:
Tom Gonzales, entrepreneur, marine enthusiast, bon vivant, had just purchased the 50th Anniversary Corvette Indy pace car. It was a nice addition to his already sizable pace and assorted car collection in Dayton, Nevada, and led to a trip to the Palm Beach, Florida Barrett Jackson auction with friend, Bob Leach. Gonzalez wanted to "toy" with the idea of adding another 50th edition item to his collection, as Leach, the owner of Eliminator Powerboats in Perris, California, had just donated a 27-foot Eliminator Daytona to auction for the Darrell Gwynn Foundation which combats spinal paralysis. Leach has a big heart and has been nick-named the "Godfather of Speed," as he builds one of the finest custom powerboats on the market, ranging in size from 27 to 40-feet, known for excellent performance and their beautiful gelcoat graphic schemes.
Gonzales, a man who loves flying, boating, motorcycling and cars, spends much of his time between Grand Bahama Yacht Club, Ft. Lauderdale, Lake Havasu and Lake Tahoe, where he enjoys his favorite boat, another 27-foot Eliminator. Exotically painted and themed "Jungle Boogie," the Eliminator features twin Mercury Racing 525's that cruises at 100 mph.
So, Leach's one-of-a-kind 27-foot Daytona caught Gonzales' eye. It was not only painted to commemorate the 50th Running Logo of the Daytona 500 this February, but it was also signed by every team who started in this historic NASCAR Sprint Cup event. Gwynn, in cooperation with the Daytona International Speedway, made sure that all the teams signed the hatch that covered a gleaming Ilmor V-10 625 horse-powered engine. This boat was indeed a great match for Gonzales' new Corvette pace car.
Gwynn, a former NHRA top fuel racer, had a life-changing racing accident in 1990. Though a paraplegic, he had no time for self-pity. He fielded his own NHRA team, formerly sponsored by the NY Yankees, and created his foundation to do research to fight spinal paralysis and also to purchase wheelchairs, mostly for children, whose insurance does not cover the $8-10,000 expense. When Gwynn is on stage, giving youngsters their "first set of wheels" there is seldom a dry eye in the house.
Such was the case at the Palm Beach Barrett Jackson auction, which has supported the Darrell Gwynn Foundation, among many other charities, for years. The auction, known as "The World's Greatest Collector Car Events," began as a charitable fund raiser in the 1960s. As Craig Jackson assumed leadership of the family owned auction, he expanded the events and their philanthropic role. This year alone, Barrett Jackson events raised over $750,000 for Gwynn, including in Scottsdale, where Tony Stewart donated a car for auction!
"These things don't happen without a lot of cooperation," Jackson states.
The manufacturers' donations make it possible, then I donate the audience and television time; the sponsors help and the audience gets a unique item and the experience of buying it on TV live -- the relationships benefit everyone."
After Gwynn awarded a new wheelchair to 4-year old Seth Cohen of Davie, Florida, the bidding heated slowly for the Eliminator, with NHRA legend Joe Amato and Gonzales leading. The boat, valued at $250,000 got personal pleas from Spanky, the auctioneer, his wife, Gwynn and Jackson. Daytona International Speedway President Robin Braig, even threw in four tickets to the Daytona 500. The bids went on until at $137,000, Amato gave up and Gonzales walked away with another collector's piece. Its only mileage to date has been on Lake Lloyd at the Daytona International Speedway where VIP's got a short, but memorable ride.
"This is a wonderful cause and this boat is the only one in the world. It was a tremendous bargain," Gonzales smiled.
While NASCAR fans dream of hanging that engine hatch in their living rooms as they tune in to the races, Gonzales has his treasure tucked away in a warehouse as a tribute not just to Gwynn and his foundation, but to Eliminator, the Official High-Performance Power Boat of the Daytona International Speedway, and to Leach himself.
"I'm proud to call him my friend," Gonzales says. "Now I have three Eliminators!"
By Marilyn DeMartini
Marketing Director
Outerlimits Powerboats
www.OuterLimitsPowerboats.com
JustLuxé Contributor