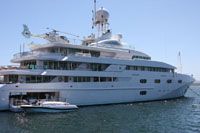 Luxury Yacht Spotted:
The mega yacht Princess Mariana was docked in San Diego over the weekend. It's the first mega yacht spotting since the port opened a high-profile stretch of the Embarcadero on San Diego Bay. This modern and stylish yacht is full of modern innovative features, has an impressive six decks, and can accommodate 12 permanent guests on board.
One of the most impressive features on board Princess Mariana is the Beach Club(see photo). This is a dry dock for the custom built tender which can be -looded? when the tender is outside and forms a 12 metre swimming pool with underwater lighting and steps. In addition to this, the entire length of the starboard hull wall lowers to just above sea level, creating a large teak private sun terrace for the owner?s suite.
There is also a helipad on board -and when the helicopter has left, it becomes a golf driving range with a massive screen showing a host of well-known courses.
The decks on board Princess Mariana are extremely spacious and there are plenty of dining opportunities to choose from. One level up from the bridge deck is the party deck with two bars, casual seating areas, a raised dance floor, a grand piano, three cinema screens, a barbeque, sun beds and a spa pool! There is a cinema on the main deck with seating for 13 guests.
According to Charterworld this luxury yacht can be charted for a mere $650,000 a week give or take a few dollars.
For Justluxe.com: Rob