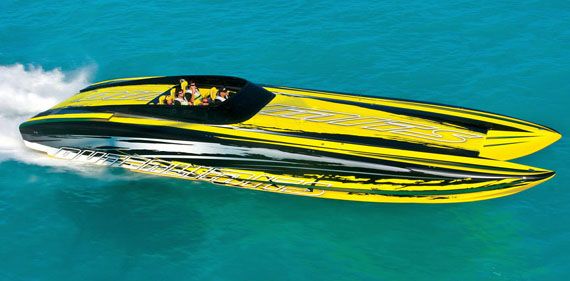 Luxury Boats:
While news that Outerlimits Powerboats is improving upon its manufacturing process, with an upgrade in epoxy resin solutions for 2010 models may test the limits of one's attention span. These custom-made powerboats are renowned for speed and enduring rough water conditions. So, it is important when a significant development in quality control is made. It also serves as a good enough reason for us to take a closer look at the new 50-foot Catamaran powerboat.
"Outerlimits Powerboats [models] are built utilizing the finest materials known to man," said Outerlimits' president Mike Fiore. "From the exotic leathers used in the interiors to the one of a kind paint schemes, everything is carefully chosen with the owner's unique taste in mind. Beyond the smooth flowing lines and exotic interiors is a race bred hull that has to be capable of withstanding harsh conditions."
All kidding aside, it is the last four words from Mr. Fiore that makes the announcement that Zydex Performance Materials is now supplying advanced resin systems for the 2010 line of Outerlimits Powerboats important. It makes the boats better. No joke.

Naval maneuvers: The new 50-foot Catamaran exceeds 160 mph; the luxurious cockpit is awesome.