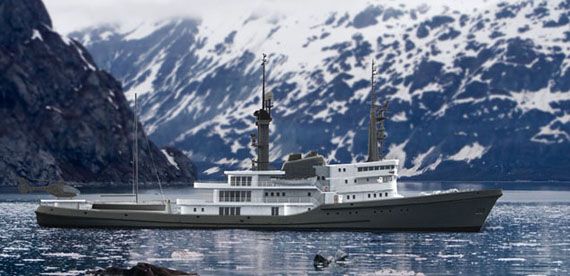 Boats & Yachts:
The
Pastrovich Studio
, which specializes in custom
yacht
projects has made the preliminary project for the reconversion of the MY 77.4m Ocean-Going Tug into a private yacht.
The basic idea of the project was to enhance the original lines of the boat and draw attention to the forms that identify it: the sheer line, the fender on the hull, the two mast, the funnel and the vertical bulwark. "Knowing the boat is the most important thing to think about when to prepare for a refitting" said the architect Pastrovich.
Focus was given to the new structure with additions on the stern. It now has a new block of the superstructure, located a half-height compared to the bridges of the bow, in a manner consistent with the sheer line.
The general arrangement was fully restudied so as to allow a flexible use of space, where living rooms and dining areas could communicate fluently. Ultimately, the space could be utilized in a variety of manners making life on board more versatile carrying a panoramic veranda bow equipped with an open able ceiling.