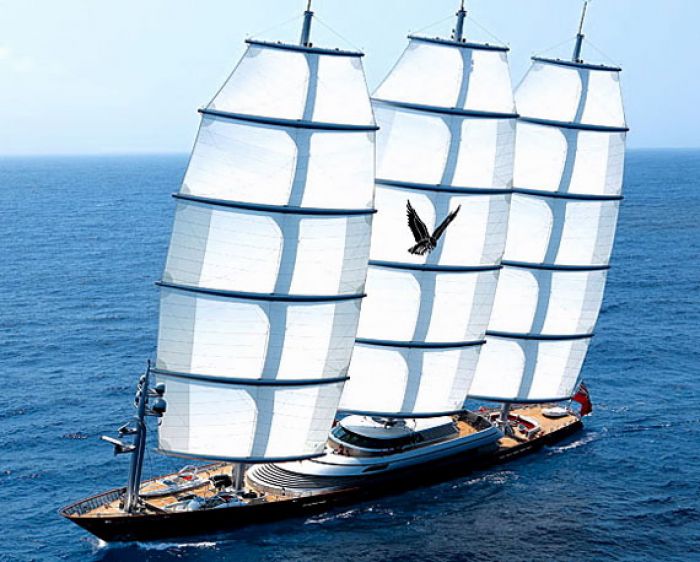 Luxury Yachts:
In one of the biggest transactions in the yachting world, the 289-ft. Maltese Falcon, the world's largest, best designed, and most expensive sailing superyacht, changed hands for $120 million a few months back. Now the new owner, Elena Ambrosiadou, Greek-born founder of hedge fund Ikos Partners, has given her new toy a makeover and is offering it for
charter in the Mediterranean
this summer at the sublime rate of $500,000 per week. A masterpiece of technology and design, the yacht was recently featured on the cover of Luxury Toys: Top of the World. With its three 20-story carbon fiber masts fully rigged the yacht can cross the Atlantic in 10 days and also recently captured top honors in the Perini Navi Cup.
Ambrosiadou, the UK's highest-paid woman and its wealthiest female entrepreneur, has done away with a few of the more unfortunate design flourishes from the Falcon's former owner, venture capitalist Tom Perkins, who commissioned the craft from Perini Navi in 2006. atrium where the three decks are united by a circular stairway surrounding the main mast creating a spiraling effect, enhanced by natural light cascading from the top to the lower decks through transparent floors. The main deck is a wide open space featuring a main saloon, an enormous aft cockpit, two separate studio areas and a majestic dining room. In addition to the usual bells and whistles it now comes equipped with a gymnasium, two Segway scooters, and a full time on-board sports therapist / masseuse.