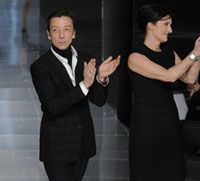 News & Trends:
Pier Paolo Piccioli is one of the lead designers of the design house of
Valentino
. He, and his partner, Maria Grazia Chiuri, took over as creative directors for former creative designer Alessandra Facchinetti in Fall 2009.
Formerly, Piccioli and Chiuri headed the accessories division of the formidable house of Valentino, before being tapped by chairman and chief executive officer of Valentino, Stefano Sassi for the top position.

At the time of their appointment, Chiuri and Piccioli said, "We are excited and honoured by the opportunity offered to us. We will remain faithful to the core values, while developing new ideas that will combine Valentino's legacy with a contemporary concept."