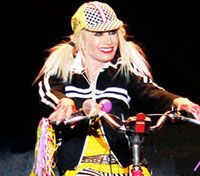 News & Trends:
Born in Connecticut, Betsey Johnson originally wanted to be a dancer. But after entering the
New York
fashion scene in the early 1960s, Betsey Johnson has become a fashion industry staple.
Best known for her fun style, Betsey's trademarks include: sexy silhouettes, hippie-inspired flowing fabrics, whimsical detailing and a great fit.

Since opening her first retail store in 1969, Betsey Johnson has become an international sensation selling in department stores and boutiques, as well as Betsey Johnson stores around the world.

Her career has spanned over 45 years and the platinum blonde has been awarded numerous times over the years including:


1972 Coty Award
1999 CFDA Awards, Timeless Talent Award
2002 Fashion Walk of Fame
2005 Lifetime Achievement Award from the Signature Awards and NAWBO-NYC committee
2005 Lifetime Achievement Award from the Accessories Council
2007 Designer of the Year Award at the annual Fashion Accessories Benefit Ball (FABB)
2009 National Arts Club Medal of Honor for Lifetime Achievement in Fashion
As a breast cancer survivor, Betsey plays an active role in the fight against breast cancer, making public appearances and participating in numerous fundraising events. She has even gone as far as to create one-of-a-kind items that have been auctioned off to raise money for various charities.

"Making clothes involves what I like-color, pattern, shape and movement. I like the everyday process and the people, the pressure, the surprise of seeing the work come alive walking and dancing around on strangers. Like red lipstick on the mouth, my products wake up and brighten and bring the wearer to life-drawing attention to her beauty and specialness; her moods and movements; her dreams and fantasies."-- Betsey Johnson

Betsey Johnson's quirky style comes out in her personal outfits and at runway shows, where she performs a cartwheel during every finale.