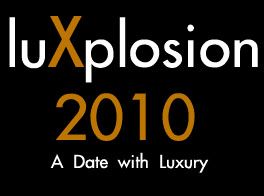 News & Trends:
TheLuxuryHub.com, dedicated to reaching the ultra-wealthy and aspiring millionaires alike, is hosting a contest to determine the best of the best in the luxury world.
LuXplosion 2010 features six categories: Luxury Lifestyle, Luxury Travel, Luxury Blogs, Luxury Leaders, Luxury Social Media, and People. Each category contains more specific subcategories encompassing people, products, services, and publishing to help refine nominations. The contest runs from December 2010 to February 2011, inviting nominations from TheLuxuryHub audience, luxury brands and anyone who simply appreciates the opulent in life.

Nominations will close on January 25, 2011 to allow a team of luxury experts, editors and writers to narrow down the public's selections to a top five in each subcategory. Readers will then get the opportunity to vote for the final winners across all categories, which will be announced on February 28, 2011. The winners will be determined solely on the votes, so each one counts.

To nominate your favorite luxury person, place or website (for example JustLuxe.com *wink wink) and view all current nominations, go to theluxuryhub.com/luxplosion-2010.

For more contest details contact Nishu Kakkar, editor@theluxuryhub.com.