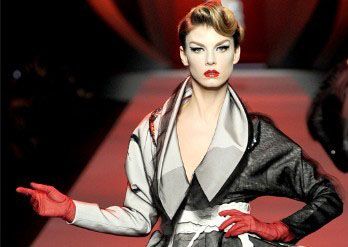 Last month, pockets of
Paris
were filled with an obscure sound that only one elusive industry can make – the rustle, swish and clink of priceless fabrics caressing precious gemstones as haute couture gowns glide down a catwalk. It's far too early to get any sort of tally on the orders taken by the twenty or so couture houses still showing but, if the assembled reporters gauged the mood right, then by virtually all accounts the 'spectacular recovery' of the sector we reported on last season is still going strong.
Once again, Women's Wear Daily chimed in early with a round-up of financial appraisals by luxury brand CEOs who are charged with making sure that their couture divisions are meaningful in the bigger business picture. Several indicated that not only was couture now worthwhile but that it was positively flourishing and undeniably profitable.
Fabrizio Malverdi, Givenchy's CEO, forecasted a 10% gain in couture sales this year after a similar increase in 2010 and Christian Dior's CEO, Sidney Toledano said it was an "excellent year for couture" which gave him reason enough to double the capacity of his show for clients this season.
(Dior pictured above.)
Those pundits who had written off haute couture as either an outlandish marketing stunt with a questionable capacity to recuperate investment through
cosmetics and fragrances
or as a white elephant stroke vanity project are now beginning to eat their words. Granted, many
high fashion brands
have shuttered their couture operations in recent years so the offering on the market is much tighter, but the fact remains that couture hasn't seemed more relevant than it is now in a very long time.
The most glaring reason that couture is experiencing a renaissance is the sheer number of new clients bubbling up across rapidly emerging markets in the Middle East and Asia, coupled with the maisons' increasing inclination to bring the couture service on the doorstep of clients in far-flung places.
Jenny Barchfield, an Associated Press fashion reporter said that "beyond the [increasing client and sales] numbers, there were other reasons for hope: newcomers Bouchra Jarrar and Alexandre Vauthier, who both sent out…collections [which] underscored the fact that couture can evolve and adapt without losing its raison d'etre."
Many analysts also agree that it can be partly explained by a return of customers from mature markets, some of whom had foregone conspicuous consumption during the early days of the financial crisis. But this season highlighted that there was another important factor: approachable and practical design.
No show better illustrated this than Chanel where designer
Karl Lagerfeld
presented a distinctly understated and occasionally even casual collection, prompting critics to debate whether he had taken things too far with a range of couture jeans. When the Financial Times' fashion editor, Vanessa Friedman asked the question why he shouldn't, she went on to offer an answer:
"Well, one might say, because, paying couture sums…for jeans is just – dumb. But apparently Karl Lagerfeld…is out to prove there's a sucker born every minute, because today he showed faded, skinny jeans with diamante ankle buttons as part of his couture." Friedman did, however, concede that it worked "as a pure demonstration prop of how couture might be made modern – the jeans were shown with elaborately embroidered and beaded tops" and that "it's possible to imagine a very high net worth individual wearing a couture shirt with her Levis."
Raquel Laneri at Forbes, however, seemed less miffed by the idea of couture denim. Instead, she focused on what Lagerfeld's overarching message seemed to be: that at this crucial moment when couture has the potential to become a booming business after so many decades of decline, it will be those couturiers who expand their repertoire beyond eveningwear, red carpet frocks and spectacular theatre who will be the agents of a revival. In other words, what was significant was that the Chanel show was quite obviously "full of gorgeous, to-die-for clothing," as Laneri succinctly wrote.
The comparatively pared-down looks at Valentino, Alexis Mabille and even Elie Saab and John Galliano for Christian Dior appeared to be echoing this sentiment in their own ways while Giorgio Armani uncharacteristically went in the other direction entirely, presenting a collection full of vavavoom for the usually uber-discreet Armani Prive label.
To wit, Suzy Menkes of the International Herald Tribune weighed in by declaring that Christian Dior "was strictly haughty, never naughty and was too centered on fancy gowns to seem like Mr. Galliano at his most frisky." Menkes also said that although Alexis Mabille has a "sugary approach…he also has a practical take on smart dressing."
There was a similar focus in the reviews for Elie Saab such as the one by Dolly Jones of Vogue.co.uk: "Today he displayed a lighter touch than in recent seasons and the dresses were all the better for it." Style.com's Tim Blanks went further: "Can it really be nearly ten years since Elie Saab caught the world's attention when he dressed Halle Berry for the Oscars? Of course, it was actually Halle who bagged the eyeball time, because Saab let her let it all hang out. My, how times have changed…what today's show really evoked was the up-to-the-neck missy-ness of Norma Shearer, an Oscar winner from centuries ago."
And while Jean Paul Gaultier kept his interpretation of couture familiarly provocative (its mise-en-scene was a mix of can-can, punk and burlesque), stripped away from the elaborate styling, this season was also deemed relatively classic for his usual standards.
Could all this add up to an extended period where couture is sustained by the elixir of subtlety – until its newly devoted clientele craves sensational spectacle once again?
Via:
LuxurySociety