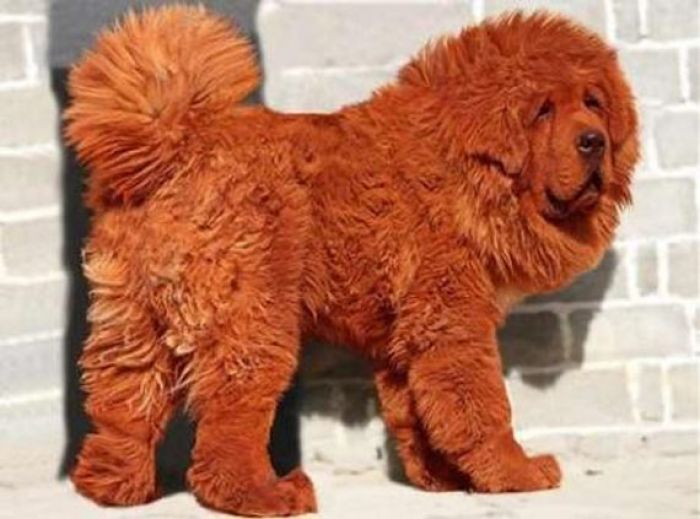 Photo Courtesy of Daily Mail UK
For me, expensive dogs conjure up images of tiny pooches perfect for accessorizing and carting around in purses. But a new set of millionaires in China have a much different idea when it comes to the value of a dog. They're using a special breed of Mastiff as a status symbol to the tune of over $1.5 million per pup.
The San Francisco Chronicle's Tails of the City blog reports that the Red Tibetan Mastiff is the latest must-have for the elite class of Chinese millionaires. The price for the brilliantly hued ancient guard dogs has shot up dramatically over the past few years, from several hundred to upwards of six figures.
Part of the Red Tibetan Mastiff's allure is its connection to
ancient Chinese history
. Genghis Khan and Lord Buddha are said to be amongst the dog's ancient owners. Considered one of the world's oldest purebreds, it is viewed as "pure Chinese" and very few remain in Tibet.
The reddish-brown haired dogs are said to be near holy and give health and blessings to their owners. They are also recognized for being independent, intelligent and protective of their owner and property.
A wealthy coal industrialist from China has made international headlines with his purchase of an 11-month-old, 180-pound pup, aptly named "Hong Dong," meaning "big splash" in Chinese, for over $1.5 million.
Hong Dong beat the record previously held by Tibetan Mastiff, Yangtze River Number Two, who sold for nearly $609,000 in 2009.
Dogs as status symbols tend to be controversial territory, with many advocating for rescue dogs to instead be awarded with ownership status. But can you really put a price on man's best friend?
Via
Tails of the City
for The San Francisco Chronicle