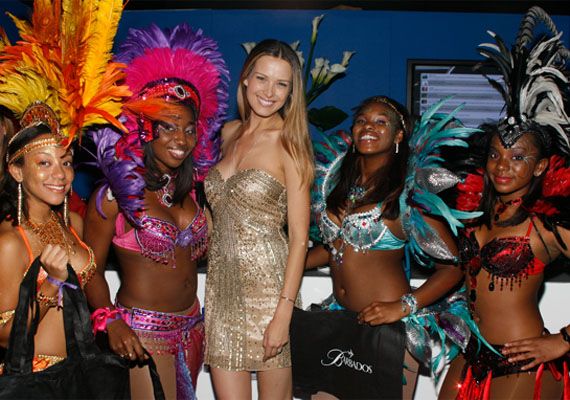 Photo Courtesy of Travel + Leisure
American Express celebrated the 40th birthday of its publishing arm's powerhouse glossy
Travel + Leisure
by throwing a party that lasted three days and extending an open invite to
New York
cognoscenti and globorati.
Not only did people arrive in droves to fork over the quite reasonable $50-75 price of entry, but they stayed, played, ate, drank and danced. It was a testament to T+L's party-planning prowess, and also to the dozens of luxury and destination brands that participated in the event.



The massive Park Avenue Armory space was transformed into an exotic walk-through interactive theater, full of stilt-walkers and tribal dancers, merchants straight off the Silk Road and food carts serving Singaporean street fare and Caribbean fish-fry. It was an ambitious amalgamation of a wine tasting, street fair, cultural festival and travel show — the first of its kind, and exceeding many people's expectations.

Even coming at the tail end of Fashion Week, when most Manhattanites were about to collapse on their stylishly leather-shod feet, this event inspired a last burst of energy. Perhaps it was th abundance of good wine, comfortable couches, roving entertainment and singular amusements.


"People are not just dropping by," we overheard one startled staffer say in the Infiniti corner, where the 2012 FX and M Hybrid were on display, and chef Marc Forgione was whipping up American Road-inspired eats. "They're really getting into all the experiences. They're getting their hands henna-painted in the India booth. They're lingering for hours. We're in New York — that never happens!"

One main reason for crowd engagement is that so many of the sponsors went all-out to create experiences that not only showcased their latest and most impressive offerings, but really engaged attendees and got them having fun. Shangri-La was offering the "Element Quiz" that's a signature in its CHI Spas, plus chair massage and free travel-sized body mist takeaways.

Fiji had flown its island brand ambassadors over, and they were a sight to behold in full traditional island costumes, telling stories and occasionally spellbinding the room with gorgeous a capella harmonies. South Africa set up a corner area complete with bush grasses, a wall-sized TV showing safari footage, and an open-top Land Rover with tricked-out seating for five. Over in the Barbados installation, an Oistins'-themed food sampling area transformed into a full-on dance party with a limbo contest set to dancehall reggae.


"We normally spend all our time interacting with the trade: tour operators, travel agents, and other professionals who book travel," said Glenn Carroll, VP of Commercial, Europe for InterContinental Hotels & Resorts. "It's really valuable to be able to meet the end consumers, especially since the people at this event are such savvy travelers."



InterContinental Hotels & Resorts was showcasing its new InterContinental Concierge iPad app, which allows users to chat face-to-face with hotel concierges in any InterContinental Hotels & Resorts property. They set up a large video screen with two-way Skype capabilities, and had concierges from Europe, Asia and the Middle East rotating in to chat with consumers. "People have been coming up to us all day who have traveled to our markets before, and who want specific knowledge about a destination. A woman came in and wanted to know the name of a cheese shop in Paris," says Carroll. "I wouldn't know the name — but the concierge in Paris did."


After a Friday night invite-only kickoff for VIPs, Saturday's schedule included a day and evening bazaar, with a charity auction in the evening. Sunday featured a short daytime program. It was slightly more relaxed, with sponsors and organizers taking a moment to reflect on the past 48 hours. "It was the first time Chile has participated in a consumer event like this," said Cristobal Luna, Planning & Development Director for Turismo Chile. "It was a huge effort for Chilean tourism. And it's been an amazing experience."

Luna felt that Chile's experiential offerings of natural inspiration, culture and heritage were resonating perfectly with the cosmopolitan East Coast consumers that attended the show. Even in the final 90 minutes of the weekend, the party spirit still burned bright. The Mocko Jumbie dancers of the US Virgin Islands came parading in all their colorful costumery through the room.


Exotic stilt walkers drew curious onlookers from neighboring installations, drums created an irresistible rhythm, and Master of Ceremonies Joseph "Coco" Brown stirred up the crowd front-and-center in the USVI pavilion. Though it was the troupe's eighth and final performance, they brought the intensity, revelry and flair of a Caribbean street fest — and crowds responded, even if they didn't understand quite what they were seeing.

"For us, it's normal to get this reaction," said Brown. "But we generally perform on resorts or at festivals in the islands. This weekend, we touched a lot of people who might not have seen us before. And even those who seemed like they didn't want to dance at first — when asked to move their arms, they reciprocated. Energy was given, and also received." Visit TravelandLeisure.com to see more.