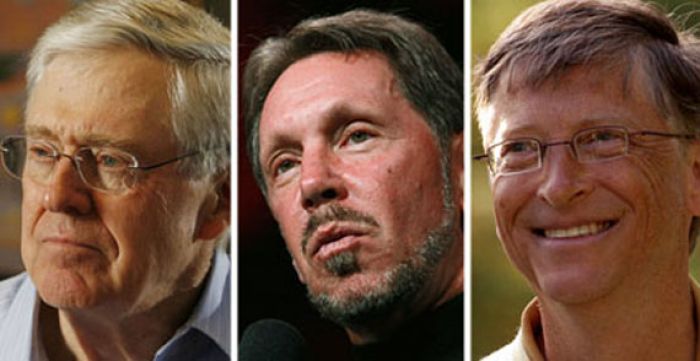 Photo Courtesy of MSN
It's no secret that the U.S. is going through some tough times. With nearly 10% of Americans out of work, most people are just trying to make ends meet - these are definitely
not
those people. Bill Gates and Warren Buffet are of course at the top of the list, despite Buffet's $6 billion loss this year.
There are also some fresh, young entrepreneurs giving the seasoned vets a run for their money. Facebook founder, Mark Zuckerberg rounded out the year with a net worth of $17.5 billion, making the top 20 for the first time. He slid in just ahead of Sergey Brin and Larry Page, Google's co-founders, who fell to number 15. Wondering who the rest of the top 10 might be and how they've accumulated their wealth? Here are the richest Americans according to
Forbes and MSN
. Go to
Forbes.com
to see the full list of the Forbes 400: The Richest People in America.
#1 Bill Gates $59 Billion
Age: 55
Source of wealth: Microsoft
#2 Warren Buffet $39 Billion
Age: 81
Source of wealth: Berkshire Hathaway
#3 Larry Ellison $33 Billion
Age: 67
Source of wealth: Oracle
#4 Charles Koch $25 Billion
Age: 75
Source of wealth: Koch Industries
#5 David Koch $25 Billion
Age: 71
Source of wealth: Koch Industries
#6 Christy Walton $24.5 Billion
Age: 56
Source of wealth: Wal-Mart Stores
#7 George Soros $22 Billion
Age: 81
Source of wealth: Hedge funds
#8 Sheldon Adelson $21.5 Billion
Age: 78
Source of wealth: Casinos
#9 Jim Walton $21.1 Billion
Age: 63
Source of wealth: Wal-Mart
#10 Alice Walton $20.9 Billion
Age: 61
Source of wealth: Wal-Mart