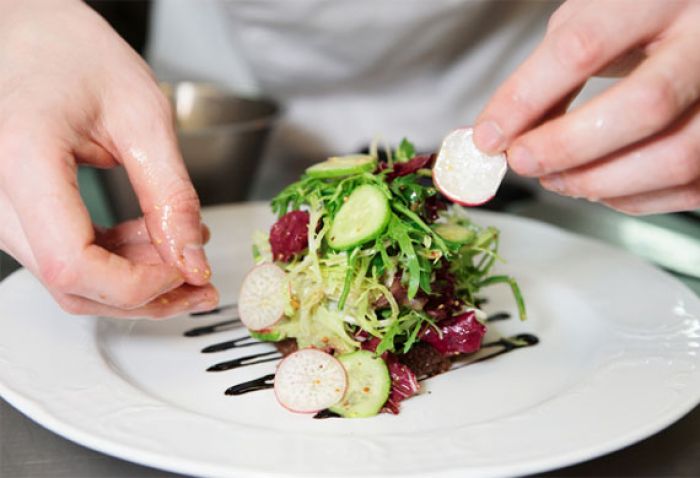 We spoke with some of the most highly praised culinary masters in the industry for JustLuxe's
Top Chef Interview
series, LuxeEpicure, co-branded by luxury automaker Lexus, and learned not only how they developed their love for food and aesthetics, but where they see culinary art heading. These top chefs generously shared insider details about their experience working in
luxury restaurants
and offered a few words of advice for aspiring chefs.
Owing to the countless accolades and mammoth restaurant empire he has built, Wolfgang Puck is likely the most recognized and highly esteemed name in the industry. Since emigrating from Austria to Los Angeles in 1975, Wolfgang has taken the culinary world by storm, creating an instant success with the opening of Spago's in 1982. He is the only chef to have been awarded the James Beard "Outstanding Chef of the Year" two times, but despite his high degree of personal success, Wolfgang pays it forward. His extensive philanthropic involvement is responsible for raising millions of dollars for non-profit groups such as The American Cancer Society, Meals-on-Wheels, the Alzheimer's Association and many more.





Todd English is a four-time James Beard Award-winner and has opened over twenty restaurants in the United States. However, English may be best known for his old-world take on Mediterranean cuisine and for establishing his first restaurant, Olives, as a premier example of high-end dining. English is the author of several cookbooks, has made countless television appearances, and is the host of the Emmy-nominated travel series Food Trip. After tackling the savory world, English decided to show off his 'sweet' side with his first ever dessert concept in New York City — Isabella's CurlyCakes, named for his daughter.






Jose Andres, founder of ThinkFoodGroup, also holds several James Beard Awards for his extraordinary culinary talents and was most recently honored with the 2011 James Beard Foundation "Outstanding Chef Award." Andres has several high-end restaurant concepts to his name, many of which can be found in the Washington, D.C. area. He is credited with bringing a refinement to Spanish cuisine in the United States and is said to have been a pioneer in the popularization of tapas. Andres has authored several cookbooks and has made many American and Spanish-language television appearances as both guest-star and host of the shows Made in Spain and Vamos a Cocinar.





Awarded "Humanitarian of the Year" in 1998 by the James Beard Foundation, Rick Bayless is as well known for his artistry in the classroom and the community as he is in the kitchen. In 2002 Bayless was awarded "Cooking Teacher of the Year" by Bon Appétit Magazine and spends much of his time teaching others the secrets of cooking authentic Mexican fare throughout the United States. He is the host of the PBS show Mexico-One Plate at a Time and has several cookbooks to his name. The cookbook he wrote with his daughter, Rick and Lanie's Excellent Kitchen Adventures, was recognized with a James Beard Award nomination.



JustLuxe also had the privilege to speak with culinary greats like Jean-Georges Vongerichten, Michael Mina, Julian Serrano, and William Bradley among many others. From what they like to cook at home to who influenced their passion, these kitchen gurus divulged personal and professional insight from their diverse experiences.

See all the Top Chef Interviews