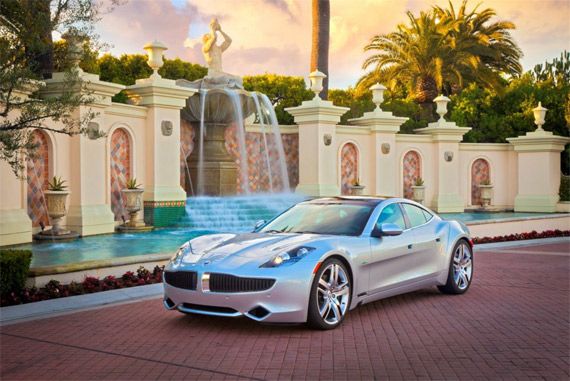 Photo Courtesy of Fisker Automotive
Fisker Automotive
released its first business update statement today. Highlights include company revenues exceeding $100 million in four months to April 30, 2012, and 1,000 vehicles delivered to customers since the launch of the luxury electric-car maker. The vehicle has been available since December 2011.
Fisker is the first manufacturer to launch vehicles under the U.S. Advanced Technology Vehicle Manufacturing program. The company also announced that its total funding is more than $1 billion, and private-equity funding for 2012 exceeds $174 million to date.
In a statement released today, CEO Tom LaSorda of Fisker said, "We are encouraged by solid demand for the Karma, our unique extended-range luxury model. Pending completion of investment sourcing, we are poised to press ahead with further market expansion and development of our higher volume model, the Fisker Atlantic." 
Executive chairman Henrik Fisker shared Mr. LaSorda's enthusiasm of the company's direction. "There is great confidence from the investment community, our customers and the media in what we have achieved in bringing such a beautiful and innovative car to the marketplace in record time," said Mr. Fisker in commenting on customer feedback the company has received from owners of the Karma.
The company also reported it has reached a distribution agreement in the Middle East and that sales figures though April 2012, in the Netherlands, ranked second to the Porsche Panamera. Fisker is encouraged by the sales in the Netherlands, as it is among the most competitive markets for premium vehicles, according to the luxury automaker.
Fisker Automotive, which was founded in 2007, is developing a line of premium electric plug-in hybrids. The firm introduced its new Atlantic model at the New York International Auto Show in April 2012. For more information on the organization, visit
FiskerAutomotive.com
.
See More Luxury Car News