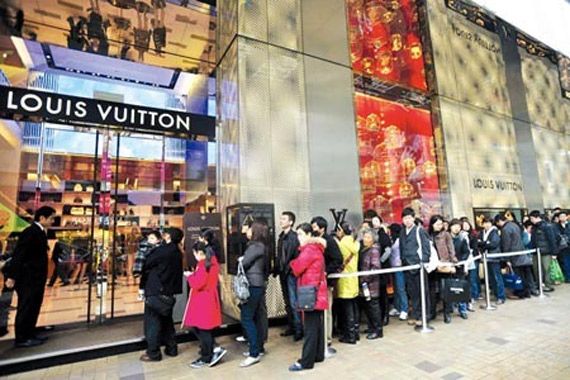 Photo Courtesy of Luxury Society
China has consistently out-performed growth expectations when it comes to
luxury
, but as the Republic's overall growth forecast slows, the outlook becomes a little less rosy
There has been much talk of a slowdown in luxury consumption in China. The undermining threat of an economic bubble, the feeling of trepidation when another round of double-digit growth rates are announced, the understanding that not all good things last forever.
A report released in 2005 by Ernst & Young expected that Chinese luxury spendingwould exceed $11.5bn by 2015. In 2011, Chinese consumers galloped past this figure, spending an estimated $15.6bn on luxury goods. Sales of European super luxury cars, high-end Swiss watches and fine wines all grew exponentially at the hands of these new uber-consumers.
Industry leaders have been measured in their responses to such success, where the mood has shifted from overwhelming positivity towards Asia, felt post-recession, to that of more reserved optimism.
But a quick scan of the news suggests key luxury players still seem to be devoting much time and resources to the behemoth. Or for the moment, relying heavily on the region to cushion blows dealt by the European economic situation.
Sales in the luxury automotive sector are a prime example. Just last week, Audi reported an increase of 44.2% in China in May alone, aided by the launch of the A8 full size sedan and the Q5 crossover SUV. BMW's May sales rose 31.5% in China, as growth rates declined in Europe.
Sensing promise, British luxury automaker Morgan debuted in China at Beijing's Luxury China Show. The brand joins fellow countrymen Aston Martin, Rolls Royce and Bentley, most of which have achieved record-breaking growth at the hands of Chinese consumers, all of which have developed limited 'China' editions of various flagship vehicles.
On the global stage, a bevy of economies are investing in better attracting and accommodating the Chinese consumer, following news that more than half of Chinese consumers' luxury purchases are being transacted abroad.
Visa requirements in the United States were recently addressed by President Obama himself; "I want more of these tourists to come visit, I want America to be the top tourist destination in the world," he remarked recently at the Caribbean Tourism Summit.
"We are also protecting our borders, while trying to make it easier for tourists from more countries to visit without a visa, and we are speeding up visa processing in countries like China and Brazil so more people can come and spend their money here," he said.
Australia – once the favoured holiday destination of the Japanese – has just launched a $164 million Australian tourism campaign in China entitled "Nothing Like Australia."
The three-year campaign has debuted in Shanghai, to be followed by Beijing, Guangzhou and eventually growing middle and upper class cities of Chongqing, Hangzhou, and Nanjing. Chinese tourism contributed $3.8 billion to the local economy in 2011, making it Australia's most valuable and fastest growing market.
Over in Dubai, the language of luxury retail and travel has become Mandarin. Chinese tourists are now among the top 20 demographics visiting the sheikdom and make up an estimated 20% of all foreign tourists there (Jing Daily). To cater to these tourist-shoppers, luxury meccas such as Mall of the Emirates are said to be on a recruitment binge, hunting for Mandarin and Cantonese-speaking staff.
"Chinese tourists are an important focus," explained Tanya Atkinson, GM of Harvey Nichols Dubai. "During key travel period for Chinese tourists we employ a Chinese speaking team member to greet arriving shoppers." Harvey Nichols Dubai also includes Chinese language signs at key touch points throughout the store and tailors window displays for holidays like Chinese New Year.
"No boutique worth its salt in London, Paris, New York or Geneva is without a bevy of Mandarin-speaking staff," echoed the Financial Times. Going on to reveal that Richemont, owner of Cartier, IWC, Piaget and others, will open a watch department store in Paris specifically aimed at Chinese and emerging market buyers in 2012.
But in the same breath, the FT was quick to note faint clouds gathering. Both the Swiss Watch Industry and Chinese Premier Wen Jiabao have cuts 2012 growth forecasts and targets respectively. A slowdown at the top-end is also predicted, should a cultural shift emerge in the wake of recent political scandals related to extravagant gifting.
Consumer confidence could also suffer in the wake of the Eurozone crisis, as well travelled Chinese consumers become more globally exposed. "The more travelled they are, the more they're influenced by headlines in Greece and the Eurozone," explained Erwan Rambourg, head of consumer and retail global research atHSBC Hong Kong. "They think there might be better things to do with their money."
If the share market is anything to go buy, the recent cancellation of Graff's planned Hong Kong IPO could be a sign of danger. Reuters also reported that Baoxin, a Chinese luxury car dealer, and Hengdeli Holdings, a premier brand watch seller, have seen their shares plummet 30 percent since May 1. Tiffany's and Chow Tai Fook fell 20 percent during the same period.
"The west [cyclically] gets excited about a new, different market place," explained James Lawson, director of Ledbury Research, reflecting on the mid-Nineties growth of countries such as Singapore, Indonesia and Malaysia. "Inevitably certain cracks get papered over. Whether this is a bubble and it will burst is hard to say, but it does have some of the signs."