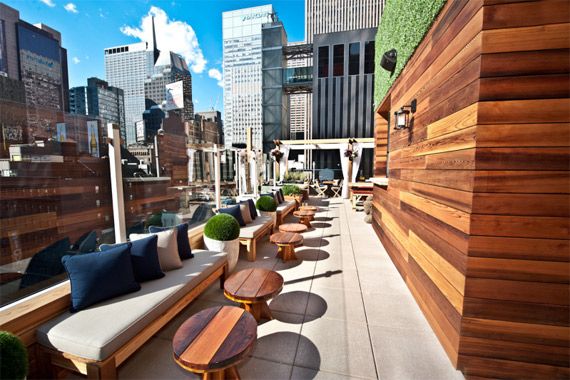 Photo Courtesy of Sanctuary Hotel
One of the hottest summer
rooftop scenes in Manhattan
can be found at Sanctuary Hotel, a new Midtown property owned by Brandon Freid, in partnership with his father, longtime hotelier Hank Freid. The space is evocatively named Haven, and it's gone from "secluded" to "scenester must-see" in a hot second. 
Some jaded folks aren't so hot on it, because it gets crowded and loud, and not everyone there is in Prada. But others keep going back, because it's not just a scene; it's a party. Complete with models, turntables, and a check-in boy who can't stop dancing to the music.
Though not the largest of New York's newcomer hotels, Sanctuary is one of the buzziest, and not just because of the scene up at Haven. All the way downstairs, the lounge-like lobby is amply staffed with sharp-dressed greeters. It's snug and charming, without the rooftop crowds. The guests run the gamut from West Coast wine execs to hipster couples to European businessmen.
This is the third venture for Brandon Freid, and the latest in a long line of projects for his father. Their hospitality company is dubbed The Impulsive Group—somewhat ironic, because its growth has been anything but impulsive. Over decades in the business, the company has systematically grown its portfolio and up-cycled its properties from inexpensive to budget-chic to four-star. In this interview, the younger Freid discusses the strategy behind Impulsive.
JustLuxe: Describe your brand philosophy in three sentences or less, please.
Brandon Freid:
My brand philosophy really starts with the culture I've created with employees. It's the same as family—it involves everybody working for the same goal, same success, same loyalty. The philosophy of the hotel is that people that are working here want to create the atmosphere, so they enjoy being here almost as much as the guests staying here. I feel that, as New Yorkers, this is a tough working environment, real survival of the fittest, and if people will spend majority of their days and weeks here, it should be a place they love being in. I know that when my crew feels that way, that's when we succeed in providing the utmost experience.
JL: How do you get yourself noticed in the very noisy and competitve Manhattan lodging market—particularly since there are so many other brands with a much larger global presence and brand footprint?
BF:
Right now, because I don't have a global presence, I am able to stand out so much more in my native New York. I am able to provide personal attention to all my properties, whether it's daily or weekly. I'm able to keep a close watch to ensure the success of each hotel. I feel that within the next couple of years, my New York properties will be succeeding in their own right, and I'll be able to move on to hotels in other cities and states.
JL: Do you aim for similar lodging experiences across all your properties, or is it different in each one? Please elaborate a bit.
BF:
I do aim for similar experiences bred from the same culture in all of my properties; however at this time each one has its own unique experience. Some of the hotels are for younger clientele, so we provide for a more fun, laid back experience. In others, such as the Sanctuary and Ameritania, we cater to both corporate and travel and leisure clientele. At those two hotels we push the service envelope to the next level to cater to their busy lifestyles.
JL: What was your background before entering the hotel business?
BF:
I was always in this business. Growing up with a father who owns and operates hotels, I've spent my entire life hanging out at hotels, working every department in hotels such as reservations, sales, construction, acquisitions as well as management. This has really enabled me to understand the true grasp of being the president of this property.
JL: At Sanctuary, you draw an extremely diverse crowd. How do you appeal simultaneously to many demographics—many of which are perceived as niche?
BF:
Sanctuary appeals to many demographics because the hotel lies directly in the most important place in the United States. Midtown Manhattan is headquarters to so many corporations worldwide, and at the same time we are directly located in Times Square, which is a top United States tourist destination.
Head to
ImpulsiveGroup.com
to learn more.