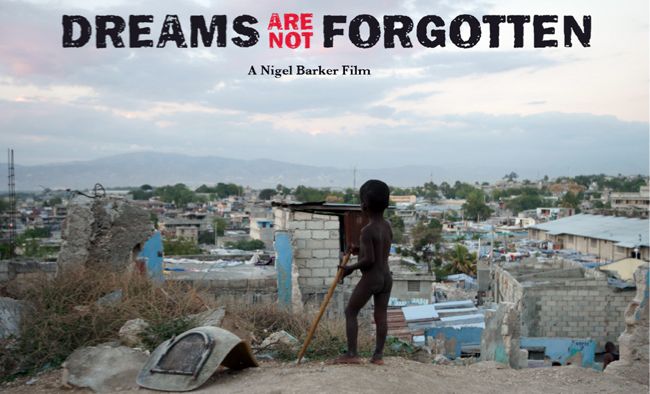 Photo Courtesy of Nigel Barker
The TV-watching legions know Nigel Barker best from
America's Next Top Model
, and most might guess that his biggest career concern of 2012 was getting hired onto
The Face
(the new Naomi Campbell-fronted show airing on Oxygen) after being fired from ANTM earlier this year. But the masses don't know what makes this fashion "good guy" tick.
Barker's a documentarian of note with many humanitarian interests—his favorite being human rights in Haiti. His most recent documentary,
Dreams are Not Forgotten
, follows three key real-life characters living in the Bel-Air slum in Port-au-Prince, Haiti after the devastating 2010 earthquake. It was produced in partnership with Edeyo Foundation, a non-profit founded by New York/Miami influencer and philanthropist Unik Ernest, and will soon be hitting the film festival circuit. 
"As a documentary director, Nigel Barker was very focused and dedicated to bringing to life the story of these three characters," says Ernest. "He brought a comprehensive approach to the daily lives of Haitians to this film and captured their sense of pride."
This isn't Barker's first foray into documenting the situation in Haiti; nor is it his first partnership with Ernest. In fact, he credits Ernest with "giving me access to the real Haiti." The pair's first documentary
Haiti: Hunger and Hope
(along with the photographic exhibit of the same name) earned Barker a VH1 Do Good Award more than a year before the 2010 earthquake.
"To be honest in the pre-earthquake 2008 Haiti, Unik's stories of Haitian need seemed almost implausible," remembers Barker. "It turned out he was not exaggerating, but more importantly he offered a solution—the power of education."
Dreams are Not Forgotten
was a lengthier and more ambitious shoot, well documented by Barker on his website nigelbarker.tv. "This was the second time I took [Barker and his crew] there," says Ernest. "It was a real thrill to see Nigel and his team conceptualize the idea that I gave them about these folks."
"Through the Edeyo's Foundation trusted infrastructure, we were able to secure access to real-life scenarios and people, that normally would take years of trust-building to develop," Barker says. "Unik and his mother made sure we were accepted into the heart of Bel-Air, so we could live alongside the community as if we were born there."
The shoot didn't take place immediately following the earthquake, and the film is not intended as another piece of quake coverage, but as a testament to the people and their daily lives. "I remember deciding not to go down and add to the circus, but rather wanted to wait until Haiti and the earthquake were no longer in vogue," Barker says, "With the hope of returning and telling a very different story, and keeping the new spotlight on Haiti firmly focused."
On the occasion of the summertime Edeyo Gives Hope 5th anniversary party in Manhattan, a diverse crowd caught the spark of Barker and Ernest's fervor for the cause: Checks were written, speeches were enthusiastically applauded, and many people remembered their post-quake promises to help. The message spread further during the Manhattan Film Festival, where the debut screening earned the Film Heals award.
With Barker's return to prime time television slated for 2013, there's bound to be plenty of buzz related to the new show: How much is it like that
other
model-search show? Who wins the Naomi vs. Tyra faceoff? Is Nigel Barker really the nicest man in the modeling industry, as he often seems to be? More proof to the pudding can be found on the Oxygen Network starting February 12— and every Tuesday night thereafter— as he hosts
The Face
at 9 p.m. ET/PT. On the show, 24 contenders will compete to become the face of ULTA Beauty. Barker will host the series alongside supermodel coaches Naomi Campbell, Karolina Kurkova, and Coco Rocha.
NigelBarker.tv
is picture proof of Barker's humanitarian vision, partnerships and social responsibility in the entertainment jet set. Hopefully soon to be showing in a movie theater near you.
To quote Unik Ernest's aspiration for the project: "I wanted to give the world an opportunity to spend a day in the lives of Haitians living in these dire conditions with integrity and pride."