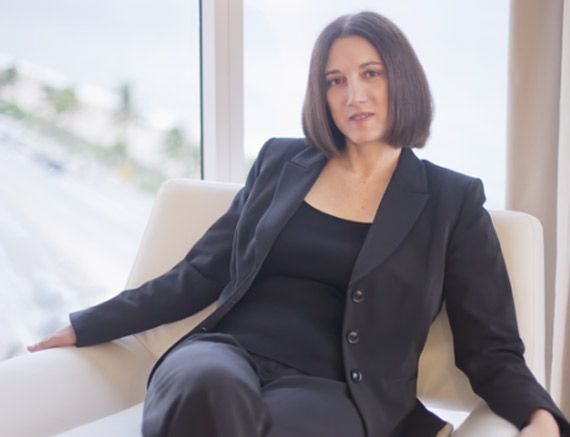 Photo Courtesy of B Hotels & Resorts
A new hotel brand has made a splash in South Florida—and made an impression on our editors—with its smart yet simplistic branding, and its approachably sophisticated style. The name is
B Hotels & Resorts
, and the brand combines many of the "design hotel" characteristics we now expect from a modern luxury property with the value proposition and flexible service everyone needs.
CEO Ayelet Weinstein brings passion, practicality and a strong real estate background to the table, and we much enjoyed learning about her hospitality philosophies and South Florida expertise. We hope you will too.
JustLuxe: What was your background in hospitality prior to founding B?
Ayelet Weinstein:
I have more than 15 years of real estate development experience that began with the redevelopment of residential and apartment communities in New York. In 2004, an opportunity to reposition a hotel managed by one of the larger internationally-recognized hotel brands presented itself. After successful soft-rebranding and repositioning, I was very much intrigued by the industry's diversity and opportunities, and immersed myself along with my team into hotel development.
JL: What are your brand's touchpoints?
AW:
The B brand is about individuality, self-expression and well-being. We focus on the guest and creating inspiring spaces, services and programs that enhance the overall experience. We cater to discerning, experience-driven guests who tend to be design-inclined, and value genuine service.
The DNA of B brand stands for an experience that ties to the Destination, N'Vogue design and details, and Approachability. We've created a brand that is fun, innovative, adventurous, comfortable, unpretentious and most of all approachable for each guest. With that, we've created ten B Signature Elements that are the core and framework of the design concepts, hotel offerings and guest experience. Each one is intended to evoke an emotional connection to the B hotels and the B brand. To name a few, the signature elements include:
B in Touch:
Complimentary technology amenities, including FreeB™ Wi-Fi (high-speed Internet access throughout all B Hotels & Resorts® public spaces, guestrooms and meeting spaces), courtesy guest iPads and Monscierge® (touch-screen concierge and destination guide) allow business colleagues, friends and family the power to always B in Touch.
B Adventurous:
Excursions designed and developed specifically for leisure travelers who want to explore and discover all that each destination has to offer.
B Wed:
From intimate nuptials with just the bride and groom, to grand-scale affairs, weddings at B Hotels focus on creating personalized and memorable events.
Through daily operation and trainings we encourage the teams to use B as a language, which naturally transcends to the guests. It's always fun to see guests get into it and start using it with each other and with the hotel team. When they do, they realize how frequently they use the word "be" to describe how they want to feel and what they aspire to. "B" allows us to express ourselves and how we want to be, whether we want to B happy, B achieved, or B original.
JL: While still a new company, B has more than one hotel brand in the portfolio already, correct? What are they?
AW:
B Hotels and Resorts has introduced 2 hotel brands: B and b2. The upper case B is a lifestyle full-service brand that serves business, leisure and group travelers in distinct market destinations. The first B Hotel, B Ocean Fort Lauderdale, opened in January 2011. The upcoming B South Beach, located in the epicenter of Miami Beach, and B in the Walt Disney World® Resort, in Lake Buena Vista, Florida, are currently under extensive renovation and are going to open their doors in 2013.
b2 is a value-full-service brand that serves business and leisure travelers in urban, suburban and resort locations. The first b2 hotel—b2 miami downtown—is scheduled to open in the first quarter of 2013.
JL: What would you like people to know about B Hotels?
AW:
Our brand is an open-source platform with user-generated content, meaning that guests as well as team members have an active role in forming, enhancing and improving the brand and the overall experience with their suggestions and their input.
We genuinely care about the environment and community and share the concern of the hotels' impact on the surrounding areas. During the renovation and conversion process we encourage and support green initiatives and sustainable practices that continue into the long-term operation. As part of the B Green initiatives, properties will offer recycling programs, be equipped with energy efficient systems and participate in environmentally conscious initiatives and practices.
One of our B Signature Elements is the B Humane program, which incorporates a plush, stuffed animal, representing an endangered species unique to the area, adorning every guestroom. The animals are available for purchase and a portion of the proceeds go towards protecting the endangered species.
JL: Why did you decide to start off in South Florida?
AW:
It is in our backyard, and hence was natural and more instinctive for us. It is also one of the top hospitality markets in the nation.
JL: Any other locations on the horizon?
AW:
We are currently targeting the top 20 major travel destinations in the U.S. We are looking into very specific locations within each destination. Our focus for 2013 is the North East corridor and we are currently working on a few potential transactions in major North East cities.
JL: What's your favorite part of the South Florida lifestyle?
AW:
I love the setup of the beaches and the Intracoastal waterways. It is a constant reminder of the natural beauty that surrounds us. I also cannot complain on the weather; despite occasional storms and rain showers, the weather here which for many tourists represents a 'vacation', means freedom to me.
JL: When you're not working, where do you like to go, and what do you like to do?
AW:
I like to travel and experience new destinations. Lately, I travel more for business, but I still try to explore the destination itself. Within every trip and I like to interact with the local culture and people. I also take the opportunity to visit other hotels, to look around and enjoy the décor and the ambiance.
JL: What are the personality traits that define a successful and happy hotel proprietor, in your opinion?
AW:
A successful operation is a balancing act between different disciplines, which requires on-going, well-thought-out considerations and adjustments. To execute well a full service lifestyle hospitality experience requires an open mind, commercial creativity, and the determination to dynamically evolve. Our generation is saturated with experiences. Trends and technology are changing constantly and the new things we applied yesterday are no longer cutting edge or the most effective today.
We have to be open to new experiences, new philosophies and evolving trends. We have to be aware of not only what is happening in the industry, but in the community and affiliated industries. Lifestyle hotels are a source of inspiration, joy and pride for the hotel owners themselves, especially these which also provide a solid financial bottom line.