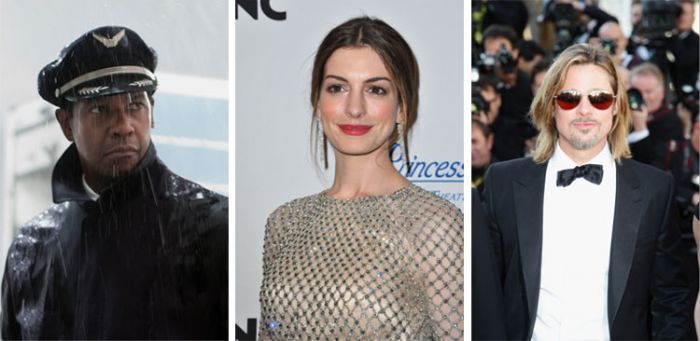 Actor Denzel Washington was voted the Top Money-Making Star of 2012 in the 81st running of the Quigley Poll by the Quigley Publishing Company. The poll tallies votes from motion picture theater owners and film buyers to determine which actor was responsible for driving the most traffic to movie theaters for the year.
While this is Denzel Washington's first time at the top of the list, it is the eighth time that the star has appeared on it. The films
Flight
and
Safe House
are the two theatrical releases in which Washington starred in 2012.
Anne Hathaway, the only woman on the top 10 in 2012, finished second in the voting. Hugh Jackman and Mark Wahlberg came in third and fourth, respectively. Last year's winner, Johnny Depp, was in fifth place this year.
Men received the highest number of votes in 65 of the 81 polls. Only eight women total were voted the top money-making stars in the annual polls, as Julie Andrews, Doris Day, Shirley Temple, and Marie Dressler won multiple times.
Washington is the fourth black actor to win the vote. Will Smith (2005), Eddie Murphy (1987), and Sidney Poitier (1968) were the black actors who previously took top honors. 
The Quigley Poll, which has been conducted by Quigley Publishing since 1932, appears in the annually published International Motion Picture Almanac. The poll has been cited as a reliable indicator of a movie star's real box-office appeal, because the voting is from professionals whose financial stability depends on the films they choose to run in their theaters.
The movie exhibitors and the film buyers voted Joseph Gordon-Levitt and Jennifer Lawrence as the Top Stars of Tomorrow of 2012.
Top 10 Money-Making Stars of 2012:
1. Denzel Washington
2. Anne Hathaway
3. Hugh Jackman
4. Mark Wahlberg
5. Johnny Depp
6. Daniel Craig
7. Daniel Day-Lewis
8. Brad Pitt
9. Leonardo DiCaprio
10. Robert Downey, Jr.                        
Photo Credit: Vittorio Zunino Celotto, Pascal Le Segretain, Paramount Pictures