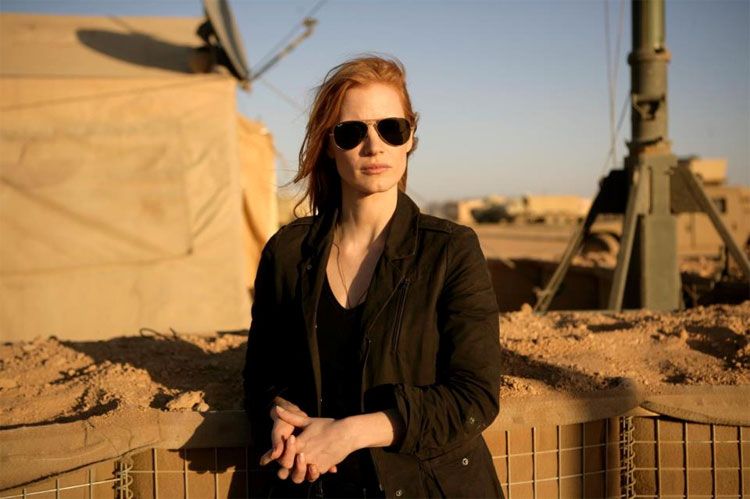 Photo Courtesy of Zero Dark Thirty Official Site
There is no business like show business, especially if you are extremely wealthy and want to be a deal-making executive producer. The studios are very receptive to qualified check-writers. It is a match made in Hollywood that appears to be working well for the studios, the filmmakers, and the young, new moguls. So far, they are picking some very good projects to invest in and, surprisingly, do much more than be "dumb money."
Michael Benaroya, 31, an heir to a prominent Seattle, Washington-based real estate firm, the Benaroya Co., is also is the producer of
Margin Call
and
Lawless
. Megan Ellison, 26, is an American film producer and the founder of Annapurna Pictures. Ms. Ellison also is the daughter of billionaire Larry Ellison, the CEO of the Oracle Corporation.
Ms. Ellison wrote a check for $45 million to finance the film
Zero Dark Thirty
. She also is the executive producer of
The Grandmaster
, which makes its debut at the Berlin International Film Festival next month and has been critically acclaimed by
Variety
. David Ellison, Megan Ellison's older brother, also is a rising Hollywood mogul. He is the CEO and founder of Skydance Productions. His company raised $325 million to co-produce and co-finance films with Paramount Pictures, which include
Jack Reacher, The Guilt Trip
, and
Mission: Impossible - Ghost Protocol.
Teddy Schwarzman, 33, is the son of the Blackstone Group's CEO, Stephen Schwarzman. He also is the producer of
Broken City, A.C.O.D.
and
At Any Price
. He began his production company, Black Bear Pictures, in early 2011.
The Wall Street Journal
is calling them "Hollywood's Surprising New Power Elite." But when has the entertainment industry ever said 'no' to investors with never-ending cash flow? (
Photo courtesy of The Guilt Trip official site
)
Mr. Schwarzman is candid when discussing his position as a neophyte power player with big-time check writing capability. "The idea is for dumb money to be smarter," he said in a recent interview with
The Wall Street Journal
. Schwarzman also has a company policy of responding back to scripts sent to his office within a week.
Megan Ellison stands out, not only because of her enormous wealth, but her low-key demeanor and avoidance of the limelight. She has never granted a formal interview. Filmmakers love the freedom she grants them. She can afford to take risks and she appears to be comfortable in her own skin. (
Photo courtesy of Broken City official site
)
Mark Duplass, who played a small part in the film
Zero Dark Thirty
, told the
WSJ
, "You would never know that Megan Ellison, if you met her on the street, is behind all these films." Duplass further said, "Your first guess would be that she'd be hanging out at a 7-Eleven, smoking with her friends—and that she might ask you to buy beer for her."
Erica Orden, a reporter for the
WSJ
, questions whether Ms. Ellison's tastes in films will translate into a viable business. Orden claims her generosity to directors could jeopardize a film's profitability. She also ventures to say that grating final cut privileges to directors could frustrate distributors of films.
I personally am looking forward to Megan Ellison's future film projects. Having spent a lot of years working in the industry, I know one major shortcoming of Hollywood is its lack of marketing projects that are not perceived as "out of the can" hits that they truly believe "everyone is going to just love." Well-made creative films that do not fit into Hollywood's tidy formula have been known to fall by the wayside, or even worse, never get past the film-festival circuit and then end up as undiscovered gems on DVD.
Maybe it is wishful thinking, but something tells me that just might change if Ms. Ellison stays true. And who knows, with a few more hits under her belt, this woman just may start up her own studio. Crazier things have happened. (
Photo courtesy of Mission: Impossible - Ghost Protocol official site
)