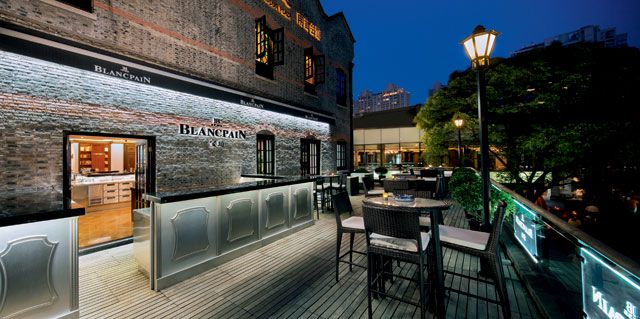 Photo Courtesy of Blancpain
IWC unveils its latest boutique on a cruise ship, as Chanel inaugurates its largest boutique in the world, and Rolls Royce looks to retail in Bangkok
"The days of Americans being the biggest overseas shoppers at London's Harrods store are over" according to
Bloomberg
. "It is probable today that America will not feature in our top 10 of overseas customers because of the growth of the east and the mineral- and oil-rich nations," explained Harrods general manager Michael Ward. China is "by far No. 1."
Instead, travellers from Thailand, Singapore and Nigeria, according to Harrods, increasingly dominate spending. Something reiterated by Global Blue this week, revealing that growth in spend by Thai shoppers has soared by 68% YTD [January-May 2013], overtaking the Chinese as the fastest growing international shopper market this year.
Specifically Thai shoppers are setting their sights on the UK. Visits to the UK from Thai travellers totalled 65,000 in the most recent figures from 2011, London – and its' luxury department stores – are a key shopping attraction for Thai shoppers with 55% of UK visits taking place in London
A recent burst in travel by Thai tourists comes as a result of a growing middle-class, according to Global Blue, as the growth in the Chinese economy continues to have a ripple effect on South East Asian territories including Thailand, Malaysia and Indonesia.
"Capital cities such as Bangkok are already established in showcasing both local and foreign brands," explains Gordon Clark, UK Country Manager at Global Blue. "But it is the cache for buying British at UK flagship stores which is at the forefront of the drive to look further afield. In particular, we are seeing that Thai travellers like to purchase leather and travel accessories, as sales in these goods has rocketed 73 per cent from previous years".
Photo Courtesy of Aesop
Aesop, Tokyo
Torafu Architects have developed the latest Aesop boutique in Shibuya, Tokyo, where rectangles of brown glass surround the doorway, referencing the trademark brown bottles that line the walls of the store. An elongated demonstration sink sits just inside the entrance, also made from blackened steel, with a mirrored splashback from which simple garden taps protrude.
Photo Courtesy of Armani
Armani, Rome
Giorgio Armani has inaugurated its new store in Rome at 77-79 Via Condotti. The 900sqm space – across three floors – features the entire Armani universe of products. Over 700 guests including actress Sophia Loren and singer Tina Turner attended the inaugural event 'One Night in Rome'.
Photo Courtesy of Baccarat
Baccarat, NYC
Baccarat has opened its premiere commercial space in Manhattan, spanning 230sqm on the 10th floor of Midtown's Decoration & Design Building. The showroom boasts more than 20 of Baccarat's elaborate chandeliers, alongside coloured and clear stemware and barware, elaborate candelabras, floor and table lamps, vases, cake stands, and other decorative items.
Photo Courtesy of Berluti
Berluti, London
Berluti has revamped its London flagship store, to reflect the brand's expansion beyond shoes and accessories into ready-to-wear, under the direction of Antoine Arnault and creative director Alessandro Sartori. Set over three floors, designed by Gwenaël Nicolas, the 'Maison' boutique includes the brand's original shoe store, which has now been enlarged to hold the latest ready-to-wear offer.
Photo Courtesy of Blancpain
Blancpain, Shanghai
Blancpain has opened its 8th boutique in China, in the Xintiandi district of Shanghai, with the largest of the brand's 30 stores to date. For the first time, Blancpain will offer an integrated customer service centre and lounge bar, with a terrace overlooking the entrance to the Xintiandi district offering a choice of traditional "Swiss Made" gastronomy products.
Photo Courtesy of Boucheron
Boucheron, Paris
Boucheron has opened its newly designed Maison at Rue du Faubourg Saint Honoré, designed by Architectures & Associés celebrating the brand's architectural heritage. The cast iron staircase leads clients to an antechamber and a private salon, which houses the most beautiful creations of the Maison. The store also accommodates a library stocked with many antique archived editions.
Photo Courtesy of Breguet
Breguet, Shanghai
Breguet unveiled its biggest boutique in the world at the Langham Hotel in Shanghai. The near 600sqm flagship reflects a new contemporary design concept, spread out on three levels, housing the Manufacture collections. Inside the boutique videos reveal the watches production, whilst the upper floor houses a museum tracing the history of the prestigious Maison Breguet, enriched by several ancient watches.
Photo Courtesy of Bulgari
Bulgari, Shanghai
Bulgari has opened in Shanghai, with a new boutique designed to reflect the brand's Italian roots, with a Murano glass chandelier and richly coloured gris pulpis and Trani marble features, sourced from the Mediterranean. An exclusive VIP area has been created so that customers can browse Bulgari's most precious creations in complete privacy.
Chanel, London
Chanel's London flagship store has shifted from Old Bond Street. Designed by Peter Marino, the new 1,000sqm boutique – its largest to date – at 158-159 New Bond Street, carries handbags, shoes and clothing, alongside jewellery, perfume and make-up. 25 pieces of art were commissioned to decorate the store, with inspiration taken from Coco Chanel's Paris apartment on Rue Cambon.
Photo Courtesy of Christian Louboutin
Christian Louboutin, NYC
Saks Fifth Avenue has debuted a Christian Louboutin shop-in-shop at 10022-Shoe. The 150sqm space is Louboutin's largest in-store shop in the world and its very first in the U.S. The boutique will house Christian Louboutin accessories and special collaborations, which have previously included Crazy Horse, Disney, and Barbie. (Dubai boutique pictured)
Photo Courtesy of Christofle
Christofle, London
Christofle has launched its new London flagship corner at Harrods, realised by interior designer Stéphane Parmentier to affirm its identity as a contemporary, lifestyle-enhancing brand. The space incorporating the silversmith's collections, is more a venue to express contemporary Art de Vivre rather than a boutique.
Photo Courtesy of Ermenegildo Zegna
Ermenegildo Zegna, Doha
Ermenegildo Zegna opened a new boutique in Doha, in The Gate Mall, a luxury shopping centre on Al Wahda Road. The single-floor 200sqm space was created by Zegna's in-house architects based on the creative concept developed by architect Peter Marino and houses the complete range of Ermenegildo Zegna collections and accessories, including Couture.
Photo Courtesy of Etro
Etro, Vienna
Etro is the latest luxury brand to open in Vienna's 'Golden Quarter'. The first flagship store in Austria for the Etro brand covers 700sqm across three floors features men's and women's ready to wear, leatherwear, accessories, sunglasses and fragrances. This is the second largest Etro store worldwide after Shanghai. (NYC boutique pictured)
Photo Courtesy of Fendi
Fendi, S?o Paulo
Fendi has opened its very first store in Brazil, in the Cidade Jardim Mall in S?o Paulo. For the occasion, a limited edition Baguette has been created as a tribute to the Brazilian flag.
Photo Courtesy of Graff
Graff, Shenyang
Graff Diamonds has unveiled its 11th store located in the Jolie department store in Shenyang, North East China. Based on a concept by interior architect Peter Marino, the exterior of Graff Shenyang boasts a highly artistic façade comprising an open grille, punctuated by the distinctive Graff Icon motif, which sits atop a textured bronze backdrop.
Photo Courtesy of Hublot
Hublot, Kuwait
Hublot has opened its first boutique in Kuwait at The Avenues – Prestige, its 7th in the Middle East. The boutique has been designed in line with "The Art of Fusion" concept, pairing natural buckskin with a black marble floor, alongside a wall of leather and screens featuring films on events, the latest new products and brand ambassadors.
Photo Courtesy of IWC
IWC, Cruise Ship
IWC Schaffhausen has announced the opening of its first boutique on board of a cruise ship. "Mariner of the Seas" is the first cruise ship to unveil an IWC boutique on-board, setting sail in Asia, servicing cruises out of Singapore and Shanghai, China. Dark and white wood, glass, leather and polished stainless steel are a few of the signature design cues seen throughout the boutique.
Photo Courtesy of Jaquet Droz
Jaquet Droz, Shanghai
Jaquet Droz has officially opened its very first store in Mainland China, in Shanghai, coinciding with the opening of a unique exhibition to mark the Jaquet Droz's 275th anniversary. The boutique is the sixth Jaquet Droz flagship in Asia after Hong Kong, Macau and Tokyo.
Photo Courtesy of Lamborghini
Lamborghini, Los Angeles
Italian luxury carmaker Lamborghini has inaugurated a new showroom in California, featuring several of the brand's newest super sports cars. The 360sqm showroom is situated on Ventura Boulevard in Woodland Hills. "Southern California is the largest market for Lamborghini in the United States," remarked Stephan Winkelmann CEO Automobili Lamborghini President and CEO.
Photo Courtesy of Loewe
Loewe, Singapore
Loewe has opened its first ever men's store in Asia, with a 40sqm space in Singapore, in Takashimaya Shopping Centre. As a world exclusive, Loewe will launch a limited collection of Toledo briefcases in refined ostrich, whilst bespoke items can be made-to-order and personalised for visitors to the Singapore boutique.
Photo Courtesy of Michael Kors
Michael Kors, Rio de Janeiro
Michael Kors opened its first store in Brazil, in Rio de Janeiro, with plans to open three further monobrand stores in Brazil by the end of 2013. The new Michael Kors store in Rio covers 1,500sqm and is situated within the upscale Shopping Village Mall. The new store features the entire range of products signed by Michael Kors.
Photo Courtesy of Missoni Home
Missoni Home, Southampton
Missoni's dedicated furniture and homewares division has opened in the upscale resort town of Southampton, NY. The Missoni Home store features the full range home collection products, including rugs, lamps, bed linen, garden and beach furnishings. Further Missoni Home store openings in the U.S. are planned for Los Angeles and Miami.
Photo Courtesy of Nicholas Kirkwood
Nicholas Kirkwood, Las Vegas
Following the opening of its New York boutique, Nicholas Kirkwood has debuted in Las Vegas, located at the entrance of the Encore Esplanade at the Wynn hotel. The interior design by London-based architect Mehrnoosh Khadivi recalls the signature Nicholas Kirkwood style: geometric shapes and patterns are found in the chrome and glass tables and the marble floors.
Photo Courtesy of Officine Panerai
Officine Panerai, Oman
Officine Panerai has opened in Muscat, Oman, in collaboration with Al Qurum Jewellery within the plush Royal Opera House Muscat. The 58sqm boutique will offer Panerai customers and aficionados an elegant ambiance to introduce all models including the brand's most exclusive and coveted Special Editions.
Photo Courtesy of Prada
Prada, San Jose
Prada has opened a new flagship store in San Jose, California, within the upscale Valley Fair Mall, operated by Westfield. The 600sqm space, designed by architect Roberto Baciocchi in keeping with the global design concept, features ready to wear and accessories for both men and women.
Photo Courtest of Pucci
Pucci, Miami
Emilio Pucci has opened its 160sqm space in Miami's Design District, the brand's third location in Southern Florida. Art Deco-era pastel and tropical hues evocative of Pucci's prints are used throughout on furnishings and décor, as oversized free-standing brass 'totems' – homage to props Founder Emilio Pucci used in one of his first fashion shows – spell out "PUCCI" on the retail floor.
Photo Courtesy of Ralph Lauren
Ralph Lauren, Hong Kong
Ralph Lauren has opened a dedicated men's universe in Central, Hong Kong. The multi-storey affair occupies three floors over 930sqm, divided into 'worlds' for the Ralph Lauren man. There is the Purple Label Room featuring the brand's finest in ready-to-wear and made to measure. Clients can have suits, shirts and shoes custom made from a huge selection of fabrics and leather.
Photo Courtesy of Richard Mille
Richard Mille, Kuala Lumpur
Richard Mille's Kuala Lumpur is the second to debut with the new RM global retail design concept. This "new generation" boutique includes a watchmaker's workshop made entirely of glass, alongside a huge glass display case engraved with a three-dimensional Richard Mille watch and a sculpture by aeronautics experts evoking the mechanisms of the brand's timepieces.
Photo Courtesy of Rolls Royce
Rolls Royce, Bangkok, St Petersburg
Rolls Royce has unveiled its first boutique shopping location, located in the ultra high-end Siam Paragon mall in Bangkok, Thailand. The goal of this Bangkok boutique is to allow customers to see, touch, smell, and feel the plethora of optional extras they can choose from, as well as showcase products from the Rolls-Royce lifestyle catalogue.
The luxury automaker has also opened a showroom in St. Petersburg, the third dealership Rolls-Royce has set up in Russia, with two already in Moscow. "Russia is very attractive because you see here a lot of individuals that have money … People are perfectly prepared to spend money for luxury goods," Rolls-Royce CEO Torsten Mueller-Oetvoes told Bloomberg.
Photo Courtesy of Saint Laurent
Saint Laurent, NYC
Saint Laurent has debuted on Greene Street in Soho, with a 370sqm space based on the new design concept by Hedi Slimane. Sleek, white marble shelves stretch the whole length of the left wall of the store, whilst high, rectangular jewellery cases made of glass and mirror-plated brass reach nearly to the original tin ceilings. Vintage Jean Prouvé chairs, and a range of one-of-a-kind accessories frame men and women's collections.
Photo Courtesy of Versace
Versace, Hong Kong
Versace has re-opened its concept boutique in Hong Kong's Pacific Place revived with a futuristic and edgy design that incorporates the brand's Italian roots and Donatella Versace's vision for the brand's future. Brass fittings, curved walls and an intricate mosaic floor are prominent features of the new 169 square meter store, designed by Donatella Versace and English architect Jamie Fobert.