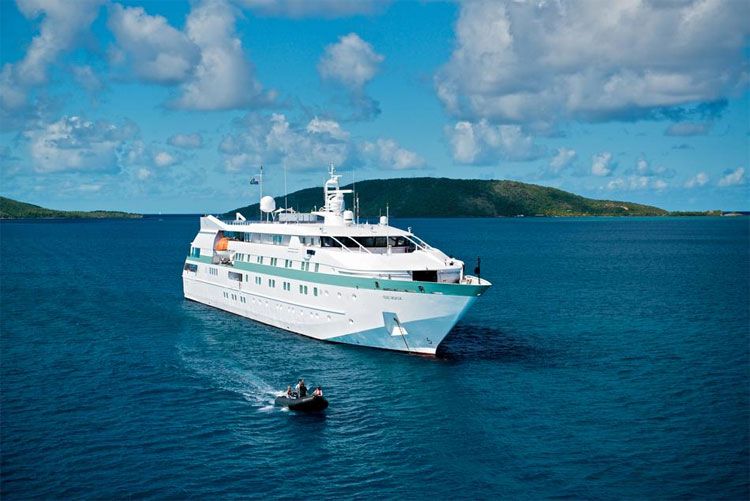 Photo Courtesy of Pacific Beachcomber
Richard Bailey, President and CEO of
Pacific Beachcomber
, received the Global First Award at
HotelsWorld's
First Awards ceremony. The event honors leading industry hoteliers and executives in the Australia and New Zealand region. The festivities took place in Sydney, Australia on Wednesday, July 24. Richard Bailey has more than 25 years of experience in the French Polynesia tourism market with the country's largest luxury hotel and cruise operator.
Photo Courtesy of Pacific Beachcomber
"He is the CEO, creative force and part owner of a company that because of where it is, what it owns, what technology it has created, and what it is presently developing, is like no other industry participant you are likely to have encountered," said David Gibson, chairman of Sunotel Corporation, during the ceremony. "In fact, it is a chain of firsts that qualifies our winner for today's honor, several times over. For all of this, he has been honored with a string of awards in French Polynesia, France and the U.S., and today we are delighted to add to the recognition that is deserved by man who has truly been a global first in the world of hotels and other guest accommodation."
Richard Bailey received the Global First Award for his ground-breaking efforts in establishing and developing hospitality and tourism in the French Polynesia market. Bailey is known for his involvement with three Maitai hotels, luxury small-ship cruise ships and four InterContinental resorts.
Photo Courtesy of Tetiaroa
"I am honored to receive this special honor," said Bailey. "At each of our properties and on our cruise ships, we strive to deliver the most luxurious, memorable and enriching experience to our guests. Sustainable development and tourism is a cornerstone of our business model and we attach great importance to protecting the environment along with preserving local traditions and culture."
Richard Bailey's next project with Pacific Beachcomber is The Brando, a luxury eco-resort. Located on Tetiaroa island, which was owned by actor Marlon Brando, the new destinations will feature 35 villas on the late actor's private island, 30 miles northeast of Tahiti.