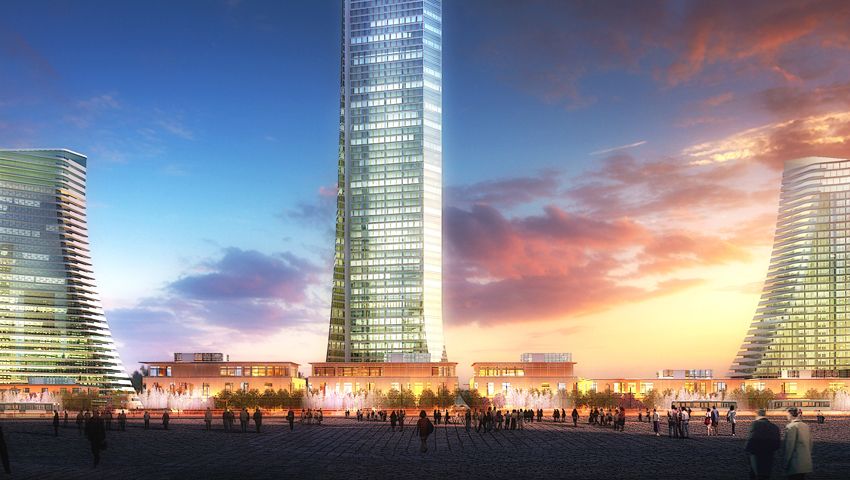 Photo Courtesy of Metropol Istanbul
Ever wondered which skyscrapers in Europe are the tallest? Well, building data provider Emporis recently revealed a study in which they discovered that Moscow is steadily maintaining its status as the skyscraper capital of Europe. Already home to four of Europe's top five tallest buildings, Moscow has six of the 10 tallest structures currently under construction.
Moscow may be full of looming structures, but if St. Petersburg's 463m Lakhta finishes construction as planned in 2018, it will become the new tallest building in Europe. Check out the full list below, which is rounded out by three buildings being built in Istanbul.
Photo Courtesy of Okhta Cultural and Business Center
1: Lakhta Center, St Petersburg, Russia
Height (architectural): 1,518.04 feet
Floors (above ground): 86
Construction start: 2013
Construction end: 2018
Photo Courtesy of MinPai+
2: Vostok, Moscow, Russia
Height (architectural): 1,182.74 feet
Floors (above ground): 94
Floors (below ground): 3
Construction start: 2005
Construction end: May 2016
Photo Courtesy of Skidmore, Owings & Merrill LLP
3: OKO Apartment Tower, Moscow, Russia
Height (architectural): 1,154.20 feet
Floors (above ground): 85
Floors (below ground): 1
Construction start: 2011
Construction end: 2015
Photo Courtesy of Hayden Connell
4: Eurasia Tower, Moscow, Russia
Height (architectural): 1,013.45 feet
Floors (above ground): 67
Floors (below ground): 5
Construction start: 2006
Construction end: 2014
Photo Courtesy of SPEECH Architects
5 & 6: ST Towers, Moscow, Russia
Height (architectural): 944.88 feet
Floors (above ground): 65 & 60
Construction start: 2014
Construction end: 2015
Photo Courtesy of Eroglu
7 & 8: Skyland Office & Skyland Residential Towers, Istanbul, Turkey
Height (architectural): 931.76 feet
Floors (above ground): 46
Construction start: 2013
Construction end: 2016
Photo Courtesy of Kettle Collective
9: Evolution Tower, Moscow, Russia
Height (architectural): 836.61 feet
Floors (above ground): 53
Construction start: 2008
Construction end: 2014
Photo Courtesy of Metropol Istanbul
10: The Metropol Tower, Istanbul, Turkey
Height (architectural): 820.21 feet
Floors (above ground): 58
Construction start: 2014
Construction end: 2016