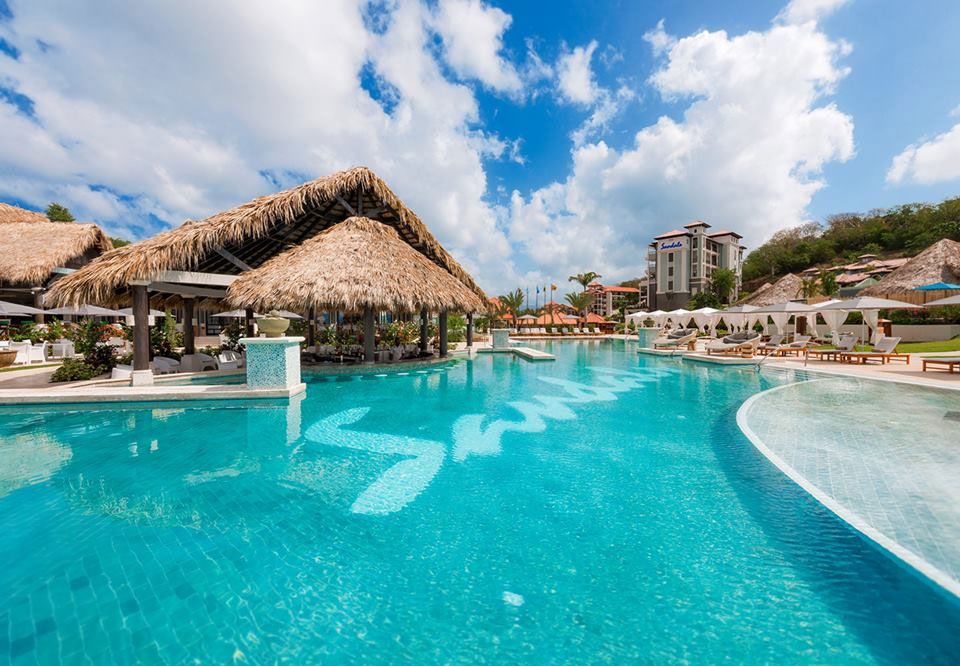 Photos Courtesy of Sandals Resorts International
Sandals Resorts International, the pioneering all-inclusive brand whose cheery late-night TV commercials fueled American dreams of sun-splashed Jamaican vacations in the '80s and '90s, has enjoyed a brand renaissance in post-recession years. With founder Gordon "Butch" Stewart working hand-in-hand with his adult children including son Adam Stewart in the CEO role, the brand is attaining ever-higher luxury standards while expanding its footprint to a half-dozen other island nations. And family-friendly brand Beaches is following suit; both in terms of new locations (usually side-by-side with a Sandals property) and a more high-end offering for those who want it.
While other Caribbean hoteliers would probably like to pigeonhole Sandals as the "big brand that's squeezing out the little guys," even direct competitors have to admit, that's just not the dynamic. For one thing, Sandals is a Caribbean-based brand that competes with international brands and wins, because the Caribbean is its home court. And its impact in new markets has been largely positive. On the sleepy island of Grenada, Sandals is raising the bar for hotel quality, while bringing resources and exposure that greatly benefit the local economy. And in Barbados, it's inspiring other local all-inclusives to improve their offerings, while nudging luxury hoteliers to update or risk losing customers.
At lunch with Gordon "Butch" Stewart himself, JustLuxe got a chance to ask the hospitality mogul some questions about upcoming launches, and the strategy behind the brand expansion. We also asked father and son to talk about how their family lives have influenced the brand's profile, and their secret to success as a father-son team.
JustLuxe: Why were you so persistent in bringing Sandals to Grenada? What is it about the island and its people that appealed to you?
Gordon "Butch" Stewart: Grenada has been on our radar for more than a decade. It is a beautiful island with a tradition of hospitality and warmth that suits our brand well. Guests who choose Grenada will find it very welcoming and we are thrilled to finally have the opportunity to bring Sandals here.
JL: You're expanding the Sandals brand to two new Caribbean destinations within a one-year period, plus opening Beaches in Barbados and Antigua. We're used to thinking of SRI as a Jamaican specialist, tell us more about the upcoming Caribbean plans.
GS: Opportunity. And let me clarify. We're expanding to two new destinations in the Caribbean, Grenada—where we just formally welcomed Sandals LaSource Grenada—and Barbados, where we are bringing Sandals Barbados to life. The Grenada property, what is now Sandals LaSource Grenada, was acquired in 2013 and we completely reimagined, refurbished and reintroduced the resort in ten months, which opened December 21, 2013. Sandals Barbados was also acquired late last year in November and after an evaluation, was closed April 24 for a major renovation.
In addition, Sandals Resorts International (SRI), has plans to expand the Beaches brand to Barbados and Antigua. Coming soon, Beaches Resorts is set to begin building on the former Almond Beach Resort in St. Peter, Barbados, and on the site of the existing Grand Pineapple Beach Resort in Long Bay, Antigua. SRI is eager to expand its family vacation offering to these new islands, providing more choice and new destinations for its guests to explore. These new resorts will not only be the first Beaches Resorts in the destinations, but also the fourth and fifth resorts added to the Luxury Included® brand collection.
JL: What would you as an insider say are the three best things about Antigua?
GS: Fabulous beaches, wonderful people and a history of seafaring that—as an avid fisherman and sailor—I appreciate. Antigua was our brand's first destination when we expanded beyond Jamaica and we're thrilled to be there.
JL: What is Sandals going to bring to Barbados in terms of a vacation experience that doesn't already exist on the island?
GS: In Barbados, they say they have mastered the art of how to truly live, and Sandals Resorts is honored and excited to bring the Sandals difference and lifestyle to this Caribbean paradise. A Luxury Included® Vacation at Sandals Barbados will offer guests an experience incomparable to any other all-inclusive resort, and after our renovation, there will be even more options for guests.
JL: What inspired the Key West Luxury Village ambiance/décor in the Beaches Turks & Caicos property?
Adam Stewart: It was inspired by the way we live with our own expanding family. We wanted families to be comfortable, to feel welcome and to really live in the spaces we created. The relaxed, laid-back atmosphere of the Key West Luxury Village sets just the right tone for our guests. Put your feet up, we're glad you're here.
JL: You're a very influential father-son hospitality executive team. How do you keep your professional/personal relationship balance? Describe the professional dynamic between you.
AS: There is tremendous respect and trust between us. No one works harder than my father and I am grateful for his experience and his insight. I just wish I had his stamina!
Sandals Resorts International owns five brands and 24 properties in seven countries including Antigua, The Bahamas, Grenada, Barbados, Jamaica, Saint Lucia and Turks and Caicos. For the past 18 years, SRI has also been recognized as the "World's Leading All-Inclusive Company" by the World Travel Awards.
The brand is also known for their corporate responsibility and earned the Condé Nast Traveler World Savers Award in 2007 for the Adopt-A-School program and their work in the Caribbean communities. There's no doubt the brand has made a name for itself and will continue to do so in the coming years.