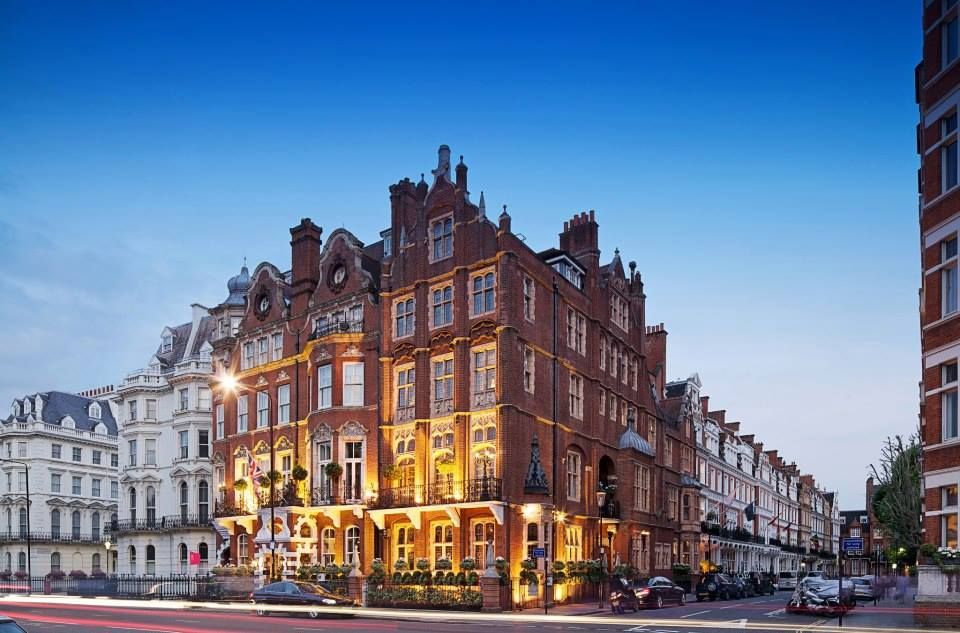 Photos Courtesy of The Milestone Hotel
"No request is too large, no detail too small," is the motto of the dedicated staff of The Milestone Hotel, London's extraordinary the Grade II-listed, luxury boutique hotel with 24-hour butler service. Readers of Condé Nast Traveler voted it the very best in London and that maxim has earned the Kensington landmark an avalanche of praise and a five-star ranking for exceptional service. In no small part, that's because of London-born Head Concierge, Jose Pauco, one of the hotel's most charming ambassadors for the past 15 years.
As a member of the Society of the Golden Keys Great Britain and the Commonwealth, Pauco is as respected by his discriminating peers as he is beloved by his appreciative guests. He makes the impossible happen on a daily basis, from finding house-seats for sold-out plays to providing en-suite Champagne Sabrage to commemorate special moments. He even found a way to interrupt his non-stop schedule to speak to JustLuxe about the Red Carnation Hotel Collection property he proudly considers home.
JustLuxe: What attracted you to the business of hospitality?
Jose Pauco: As a child, my father always said I was fascinated with the world, its history, places, the people, and the cultures. He would buy me history books, patiently take me to the museums of London, watch me study world maps and talk to complete strangers just to understand things. I grew up embracing these ideals. At the age of 17, I was studying for my A levels and needed some additional pocket money. I went job hunting and found myself a part time job as a page boy at the Langham Hotel, one of London's first five-star hotels. My job was to run messages and do odd jobs for the concierge. I was fascinated how the concierge could find solutions to the guest demands.
JL: How did you find yourself drawn to The Milestone Hotel?
JP: I went on to complete my A Levels and decided on taking a gap-year prior to University. It is at this point I saw a position available at the Milestone Hotel and that's where my love affair with the place began. Having started in 1999, I now find myself as the Head Concierge at one of the most prestigious hotels in London.
JL: What's new and exciting at The Milestone?
JP: We are shortly due to launch our Butler Fragrance Selection, whereby in addition to the existing Milestone Soap Selection that we offer all guests who stay in our suites, we will also be providing a selection of fragrances as part of our welcome. Also due to launch is a new four- and seven-day Well-Being Retreat Experience which will combine personal training, Spa Treatments with special dietary advice.
JL: The Milestone is steps away from Kensington Palace and your Master Suites are fit for a king. What royal guests has the hotel hosted?
JP: Historically, one of the property's more interesting occupants was the first Baron Redesdale, the diplomat, author, and grandfather of the famous Mitford sisters. Much more recently, however, HRH Prince Michael of Kent was our guest of honor at our Christmas Lights switch-on event last November, and the late Princess Diana allegedly visited the Milestone. Many of the celebrities who perform at the Royal Albert hall have stayed with us as well. We can't give names as anonymity and privacy is one of the reasons that these guests choose to stay with us.
JL: What are some examples of the luxury services and bespoke experiences offered by The Milestone?
JP: Bentley transfers for shopping and theater, midnight feasts, and romantic turndown. A full range of luxury spa treatments, of course, and then there's in-room butler-served dinner, or a table for two in the Oratory, the original chapel of the building. We have all sorts of special pet services, including their own menu and staff assistance. And picnics in the parks are romantic and fun for families in the summer. We set it up in Kensington Gardens which is a stone's throw away. We also offer private consultations with esteemed milliner Louis Mariette — who famously made the world's most expensive hat, the Chapeau d'Amour, with woven platinum and studded with diamonds.
JL: What are some of the more unusual requests that you've fulfilled?
JP: A private horse-and-carriage ride around Kensington Gardens and Hyde Park. Romantic trips around London's Christmas lights in November and December. Also, private viewings to a number of shops with personal shoppers to hand, for example, Mulberrys on Brompton Road. Meeting the guests' expectations is important in enhancing the guest stay and makes it one to remember for the rest of their lives. Picnics in the park, for example, and personal shopping at Harrods and Harvey Nichols by prior arrangement. A personal tour of Kensington Palace or a behind-the-scenes tour of Royal Albert Hall. And of course hospitality seating for certain theatre shows, and a variety of bespoke private sightseeing tours available in and outside of London.
JL: Which shops in Kensington do you recommend to guests for special souvenirs of their visit?
JP: If guest are fans of the Royal Family, I would suggest visiting the Kensington Palace gift shop. There you are able to buy a number of special items which include tea sets used at Kensington Palace, costume jewelry worn by princesses, and historical books about Kensington Palace. One of my favorite places for antiques is Michael German on Kensington Church Street. There is a vast amount of antique walking canes, unique swords and suits of armor that would add to any serious collection.
For all enthusiastic collectors of antique books, take a trip to Adrian Harrington Rare Books. For the kids, I suggest a quick stop at Harrods. The iconic Harrods teddy bear is well-loved and recognized by people all over the world. There is also a marvelous selection of teas, English sweets, chocolates and marmalade which make a perfect gift.
JL: What do you love most about your job?
JP: I love meeting people from all over the world and sharing my knowledge and experiences of London and Great Britain to them. I have also learned so much from where the guests are from, which has been invaluable to my career and knowledge of the world.
JL: What's your favorite memory from your past 15 years of service?
JP: My fondest memory of the Milestone Hotel is when I first walked into the hotel, in December 1999, to be interviewed for a position in the concierge department. I sat in the park lounge, at the table by the fireplace, and was asked why I wanted to work here. I replied, "I like the cozy feel of the house. It is very welcoming!"
JL: What makes The Milestone so special?
JP: The Milestone truly feels like an English Country mansion set in London with every single room and space decorated with unique furnishings, original artwork and homey touches. Coupled with this is the highest level of personal — but not obtrusive — service where guests are really made to feel more like friends than just visitors with plenty of "TNT's" being offered: Tiny Noticeable Touches.
JL: Such as…?
JP: We provide in-room surprises such as having guests' favorite music playing in their room on arrival, a surprise Romantic Turndown, surprise in-room Afternoon Tea, and personalized business cards for guests to make them feel they're always at home at The Milestone.