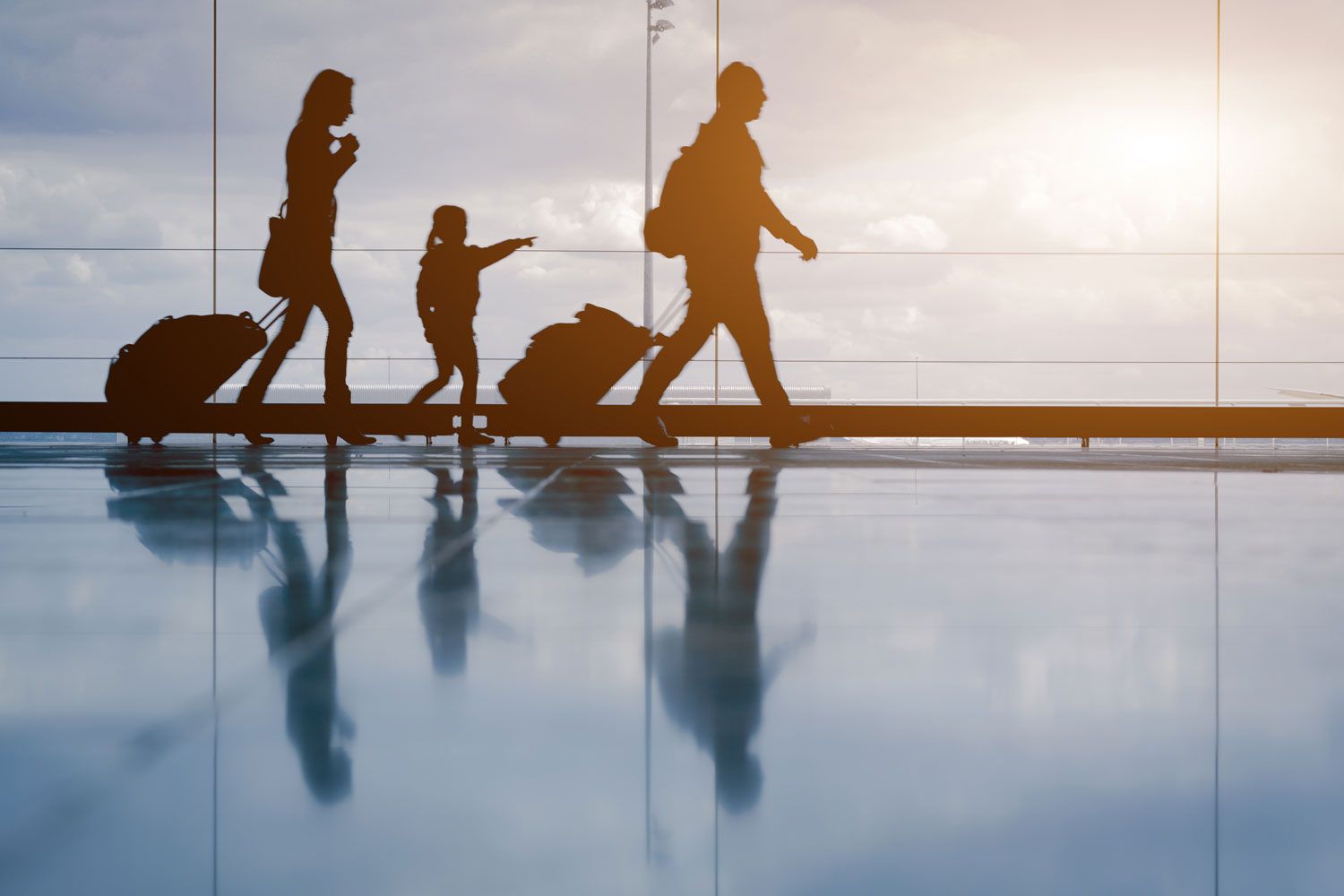 Photo Courtesy of Shutterstock
It's hard to remember a time when you couldn't book, check-in and update your flight info right from the palm of your hand. Before a couple of years ago, no one threw around the word 'Voluntourism,' and now, it's its own industry. Each year as travel trends begin to take shape and technology improves, we find ourselves eager to learn what's next for the industry and its dedicated soujourners. Here are six trends we see popping up in 2015:
Photo Credit: Aloft
Tech, Tech, Tech
This year, we continue to see the rise of technology driving our travel experiences. Cell phones are granting us access into guestrooms, cruise lines are enlisting robots to make our cocktails and our digital wallets are simply one-click away from getting us from point A to point B (Uber, Lyft).
CNN reports that instant messaging may become popular in the coming years to book travel and tours. In China, WeChat messaging service reportedly has 440 million active users (second to WhatsApp), and travel agents are using the service to sell air, train and other tickets via the app. "Instant messaging is becoming a threat to telecoms companies – and also for social media," Angelo Rossini, travel and tourism analyst at Euromonitor International told CNN. "We definitely expect this to become the case in more and more other regions of the world."
At Aloft Hotels, A.L.O., the property's robot, is bringing you your forgotten or needed items right to your room. So that toothpaste you didn't pack or the extra blankets you'll want for colder nights, A.L.O.'s got your back. This shift in digital capabilities is both intriguing and scary. We can't help but think of every Sci-Fi movie ever made and wonder, "When this will go too far? Are we losing human interaction?"
Photo Credit: Behomm
Sharing is Caring
Airbnb has more beds than all of the world's hotel chains combined. That number alone should tell you where we're headed with the rise of the sharing economy. PricewaterhouseCoopers (PwC) noted that, "Of the 600,000 tourists who traveled to the 2014 World Cup in Brazil, it's been reported that 120,000–or one in five–stayed in an Airbnb apartment." The research firm also estimates that the five sharing economy sectors (accommodation, car sharing, finance, music or video streaming and online staffing) could be worth $335 billion globally over the next decade. This is exponentially greater than its current number at $15 billion today.
But something new we're really seeing this year, are rentals stepping up their game, offering five-star resort-style amenities such as concierge services, complimentary iPhones during your stay and delivered food in lieu of room service. Also, hosts are also making their way into more high-end and niche markets that cater to a specific lifestyles or people groups. Behomm, an invitation-only home exchange program, was created for designers and visual artists such as architects, film makers, stylists, photographers and interior designers. The company must approve a home before it will be listed as well as its hosts, ensuring a higher level of safety offered to home owners. Since many of the residences feature pricy artwork and furnishings in the sometimes million-dollar homes.
As the industry moves toward more experiential travel, home sharing programs are showcasing themselves as an even deeper way to connect with each destination and its locals. Millennials especially are tired of the status quo, and want more from their stays than a hotel chain can offer.
Photo Credit: AmaWaterways
Cruising on the Rise
This week we shared that by 2018, 59 new cruise ships (up seven from Monday) are slated to hit the water according to Cruise Compete. Rising from seven percent last year to 10 percent this year, more travelers are looking to book a holiday on the water in 2015.
What's interesting, though, is that of the close to 60 vessels being built, 23 will take their voyages on the river. Sojourners are looking to experience new destinations, cities and ports generally unavailable to larger cruise ships. The majority of river cruises will be heading to Europe to popular locales such as the Rhine, the Danube and the Moselle.
While their main audience tends to be those around 55 years of age and older, the cruise industry will focus on making its tours more attractive to families and singles. River voyages will look toward themed itineraries while larger ocean ships will offer even more extravagant amenities such as skydiving simulators and trapeze lessons. Also, many ships will begin offering complimentary Wi-Fi or will provide it for free to those in higher suite categories. Currently, Viking Ocean (a first for the river-cruise company) will offer gratis Wi-Fi on their 930-passenger vessel, and Regent Seven Seas offers the perk to guests in their concierge-category suites.
Photo Courtesy of Shutterstock
All About Them #Millennials
Millennials are shaping our future. The generation of instant-gratification and social-media-oversharers are dictating what new hotels will look like and how they will function in the down the road. This has been slowly developing over the last few years, and big brands such as Thompson, Marriott, Hilton, InterContinental and Starwood are opening more lifestyle hotels. And, just like the tech trend, digital capabilities take center stage at these destinations.
This summer, Hyatt Hotels will launch their collection of trendier properties called Hyatt Centric. The hotels will focus on their destinations to inspire their furnishings and will include stylish yet functional designs that appeal to today's modern journeyer. In December of last year, Marriott established a partnership with Spain-based AC hotels and opened their first hotel in New Orleans to service this niche of traveler. "When you think about today's mindset you want a design-forward brand that enables your technology, you want to stay in a place that is about the experience not just a good night's sleep," said Marriott International's Tina Edmundson, Global Officer Luxury & Lifestyle Brands.
Rethinking their marketing methods and designs, this transition is a smart move for hoteliers as Millennials are quick to sign-on to their social networks to either praise a hotel or put it on blast to their many, many followers. A few bad reviews could mean a guest consistently choosing neighboring properties to stay in. Making up more than 20 percent of consumer spending, it's Millennials reach that is really driving this trend. "Their influence is much greater than their numbers," Jeff Fromm, co-author of Marketing to Millennials tells Entrepreneur.
Photo Credit: Pack for a Purpose
Travel Well, Do Good
Today's traveler is a conscious one. Because of this, the industry is focusing on giving back to the communities and environments they live in or travel to. Do-gooders are traveling to make a difference, and are looking toward eco-friendly hotels and sustainable resorts that do more than just offer high-end amenities.
Sir Richard Branson's properties partner with Pack for a Purpose, a community-based project supported by hotels and resorts in 56 countries around the world. The project keeps travelers up-to-date on the needs of the destination they are visiting and then they can use that information to collect supplies and pack those items in their suitcase. One such property is Kasbah Tamadot in Morocco that works with three local charities, and gives visitors the opportunity to interact with those doing good in the region.
Getaway 2 Give (G2G) is a distinct luxury travel group that promotes community outreach touted as "A luxury destination club that will save you money and change your life." All trips are coupled with giving activities in impoverished areas to help improve people's standard of living, while being fully immersed in a foreign culture. G2G's itineraries can offer numerous chances for charitable activities, but travelers can decide how much of their time they would like to donate.
Photo Courtesy of Shutterstock
Wi-Fi Becomes a Right
Nowadays, not having access to wireless internet seems absurd. Thankfully, hoteliers, tour operators and cruise lines are making the switch to complimentary Wi-Fi or paid alternatives for faster connections. This has been a longtime coming for luxury hotels in particular.
But this also means a couple of things. According to industry expert Pauline Frommer, hotels will be able to monitor your spending habits while connected to their network or through their personal apps on iPads and tablets. This means, if you've previously enjoyed a spa treatment, you'll be notified (text/TV message/tablet) of an opening at their facility. To urge you to book your appointment, a discount code may even be offered. Or, if last stay you dined on filet mignon and Dom Pérignon, your virtual food menu on the property's app might feature only pricier options.
Photo Courtesy of Shutterstock
Frommer also had a few other helpful tips to take note of for booking best practices. Currently, if you're looking to travel within the US, the best time to purchase online is 57 days in advance for the best deals. For international travel, look no later than 171 days before your trip. And while Tuesday used to be the best day to purchase airfare, Sunday is showing the best prices nowadays (booking date, not travel date).