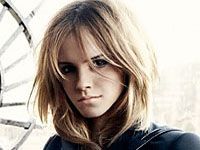 News & Trends:
Unlike many iconic luxury brands that are constantly trying to redefine themselves to fit in with the moment, Burberry takes pride in its long history even as it moves into the future.
Helping Burberry move into the future is Emma Watson, star of the Harry Potter films and star of the new Burberry campaign, where she poses with British beaus in one of London's most iconic areas.

In the video, Creative Director Christopher Bailey says: "We wanted a truly British cast, which is typical of the Burberry world...". He goes on to call Emma one of the great new British icons.

Also a strong presence is the location of the autumn/winter 2009/10 collection shoot, which has a typically London feel and was carefully shot by fashion photographer Mario Testino.





"We wanted to do shoot in center of London, in Westminster where our new headquarters are. It's an iconic part of London and we just felt that it would really show who we are and where we come from," explains Bailey.


In the shoot, Emma wears the iconic Burberry trench coat with a Burberry Snood - the new 'it' accessory from the catwalks. With lightly smoked eyes and deliberately disarrayed hair, 19-year old Emma looks like a sophisticated fashionista, a far cry from the young schoolgirl that rose to fame portraying in the Harry Potter films.

Burberry has a long history of using British celebrities in their campaigns, including Lily Donaldson, Eden Clark, Alexina Graham, and Richard Wyndham.

"The shoot today has been the biggest ego boost of my life I think, between Mario and Christopher, it's just amazing," says Emma on camera.

In the campaign Emma poses and walks along the Thames river. In other shots, well-dressed British youths, portrayed by Tom Guinness Taylor and Charlie France, provide a background for the various trenchcoats and accessories Emma models.

Like generations of Brits, Emma's family has a personal history with the legendary Burberry label, which has been around since the late 19th century.

She explains, "The person's the most excited that I've been asked to this is my grandma because she's been wearing Burberry since forever. It's one of the first things she bought for herself when she and my grandpa got married."

As part of Burberry's use of London as a marketing device, the company has announced their intention to show its Burberry Prorsum collection for spring/summer 2010 as part of London Fashion Week, rather than as part of Milan Fashion Week, where it has been shown for the past several years.

For JustLuxe Carly Zinderman