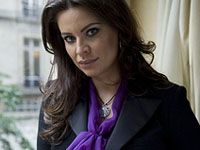 Fashion News:
Always on the lookout for the latest luxury items, it was exciting to find Savoir-Faire.com, a one stop shop for luxury gift items.
The creative genius behind the exclusive site is none other than Her Royal Highness, Princess Kasia Al Thani. Married to a brother of the Emir of Qatar, lifelong luxury lover Princess Kasia decided to launch Savoir-Faire after struggling to find the perfect gift for her husband.
The Polish-born beauty took some time out from her busy schedule of being a wife, mother and entrepreneur to talk with JustLuxe about living life luxuriously.
Q.
Can you tell us a bit of your background? Where you grew up, how you developed an interest in fashion and luxury?
A.
My parents are originally from Poland and we immigrated to America when I was very young. I now live in Paris. I always had a passion for beautiful things and am now lucky enough to have a job that requires that of me!
Q.
Where does your background in business and finance come from and how did it help you launch Savoir-Faire?
A.
I used to work as a stockbroker, so that gave me a bit of a background on how to write a proper business plan, P & L's, projections and overall what's required in starting a business.
Q.
What made you decide to launch Savoir-Faire?
A.
It was really by accident. I was trying to buy a present for my husband online and I could not find anything well suited for him. That's when I came up with the idea to launch my very own luxury site, which is dedicated to just gifts. Before now there was definitely an absence of luxury gifting one-stop online shops.
Q.
What is one luxury indulgence that every woman should have?
A.
A great handbag.
Q.
What are some of the more popular gift items this year?
A.
The Anya Hindmarch purses and the Bill Amberg leather bags/suitcases for men.
Q.
Can you name some of your favorite must-have fashion brands? Handbags, beauty products, make-up, shoes, accessories, jeans, formalwear?
A.
Hermes Birkin bags are my fashion weakness. I have many of them in different colours and am on the waiting list for the final two colours!
Q.
What is one thing you won't leave the house without?
A.
I never leave the house without mascara.
Q.
If you were stranded on a desert island, what item from your closet would you miss the most?
A.
My Hermes Birkin bags
Q.
What are some things a woman can do each day to feel like royalty?
A.
Just take care of herself. Hair, nails and skin.
Q.
What is your most royal possession?
A.
My children
Q.
What's the best gift you've ever received?
A.
A bracelet from my husband for our 10th wedding anniversary.
Q.
What is your first fashion memory?
A.
Seeing Linda Evangelista, Christy Turlington, Naomi Campbell, Carla Bruni, Cindy Crawford in the Chanel advertisements back in the early '80s, they all looked so beautiful, fashionable and womanly.
Q.
Do your children share your passion for fashion?
A.
Definitely. They are all girls and little fashionistas.
Q.
Many women seem to lose an interest in style after having children. How can you remain stylish and functional enough to look after children?
A.
You don't have to spend thousands on clothes, I think a woman can look amazing in a pair of jeans and a t-shirt.
Q.
Have you noticed the economic downturn having an effect on the luxury market?
A.
Not at all. In fact we have been beating our expectations each month so far.
Q.
What's the ultimate gift that "keeps giving?"
A.
Jewelry. It never goes out of style and it's timeless.
Visit
Savoir-faire.com
today and receive 25 percent off the entire selection of luxury merchandise.
For
JustLuxe
Carly Zinderman