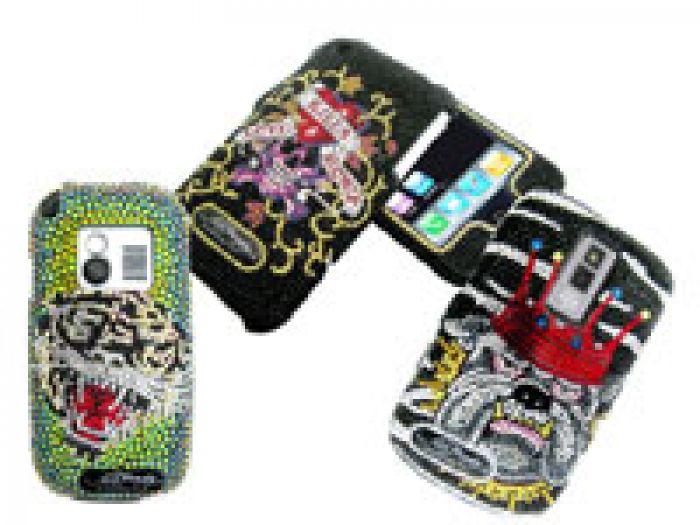 Haute Holiday Gifts - This Month's Favorite Finds:
Finding fabulous holiday gifts for those who seemingly have it all can be a challenge at best. Each month I scour the luxury marketplace to uncover new, innovative and otherwise exemplary must haves - the best-of-the-best across a range of product and price categories. My annual
Haute Holiday Gifts
Luxe List is a mix of tasteful, trendy, and high quality goods - some extravagant, some practical - that are all sure to please.
Consider this assortment of glam gift ideas:

Ed Hardy Icing Black Label Cell Phone Faceplate - $800
For those on your list who love all things bling, Crystal Icing's hip and trendy Ed Hardy Icing Black Label Phone Faceplates featuring Swarovski Crystal are a true get. Crystal Icing, known for its custom luxury accessory designs revered by A-list celebrities and Fortune 500 companies alike, has debuted its fashion-forward line of Ed Hardy by Christian Audigier brand Swarovski Crystal-laden faceplates for mobile phones.

Crystal Icing's Black Label collection of Ed Hardy tattoo designs offers completely hand-made, one-of-a-kind custom creations that will fit any type of phone. Each is entirely crystallized with thousands of brilliant Swarovski Elements that are individually placed - no two are alike! Simply choose the pattern you'd like from 12 available (or pick your own) and use the color selector tool to specify crystal preferences, and Crystal Icing's designer will contact you to create your very own. Spectacular 24 karat gold-dipped Swarovski accents are also available for an additional $250. You may send in the device, itself, to be smothered in crystal, or choose a removable faceplate for the specific type of phone that will be created and shipped. To assure satisfaction, you will be able to review and approve a proof of the design before it's completed. The faceplate is then delivered in an elegant black velvet case with a drawstring carrying bag imprinted with the Ed Hardy logo, as well as a bag full of extra crystals, a faceplate removal tool, and a warranty and care guide.

Others may try, but accept no substitutions. Crystal Icing is the worldwide exclusive license holder for Ed Hardy artwork on mobile devices and electronics accessories and, as such, is the go-to source. (www.crystalicing.com)


Galit Rondin "Head Over Heels" Bracelet - $525
I often talk about statement jewelry, but Galit Rondin's enchanting "Head Over Heels" bracelet is the utter personification of that notion. As such, I dare say this ornate and whimsical work of art is a favorite in my jewelry collection as it will surely be for a lucky gift recipient. This elegantly hand-made, oxidized silver plated cuff-style bracelet WILL have those around her talking!

A veritable habitat of beauty, this baroque bracelet has a cornucopia of natural stones, Swarovski crystals, and fashion jewels of various shapes, sizes and hues along with ornamental metal creatures, flowers, leaves and other adornments all colorfully arranged into an exquisite vintage cuff-style design. The main focal point is a centered bloodstone, flanked by vintage bakelite blue stone and carnelian stones. Bejeweled frog, snake, butterfly, lady bug and silver plated leopards each have their own unique look as they meander about the bracelet amid an Eden-like setting. The cuff will punch up both casual and dressy looks.

Designs by Galit Rondin is well-known for its bold and evocative pieces. The company's designs uniquely combine the delicate with the wild and rough applied in a magnificent mélange of classic and modern styling that's both glamorous and surprising. I urge you to surprise someone you love with this breathtaking bracelet. (www.galitrondin.com)


Taryn Rose HEIGHT Boots - $425
Boots are all the rage this season, and Taryn Rose's sumptuous suede HEIGHT design will have her putting her most fabulous foot forward. This knee-high high heeled boot beautifully merges fashion with function. Artisan fabricated with top-quality Italian-imported materials, this HEIGHT boot - with its full grain soft nappa leather interior - includes a plush full-length Poron foam-padded footbed for optimal comfort, arch support for decreased foot fatigue and a combination leather and rubber sole. Available in black or plum, the Taryn Rose HEIGHT boot features distinctive bands that crisscross their way from the toe all the way to the top. A black zipper at the interior side blends in unobtrusively and a black non-slip sole will keep her sure-footed. The reasonable 3" heel is an extremely adaptable and suitable height for both casual and elegant looks, styling well with jeans, slacks, skirts or dresses.

Many hours of hand stitching go into a single pair of Taryn Rose shoes. The company uses only soft buttery fine leathers that are hand-chosen for optimum aesthetics, fit, comfort and durability. And it shows. (www.tarynrose.com)


iHome Audio's iP1 Studio Series Audio System for iPhone/iPod - $299.99
Look no further than iHome Audio's iP1 Studio Series Audio System for iPhone/iPod for this year's "gotta get" gift for the music lovers on your list. The company's flagship, widely-heralded product for 2009, this cutting edge digital audio system brings studio quality sound to the home with an incredibly sexy design aesthetic. The first ever home audio system to feature Bongiovi Acoustics' patented Digital Power Station (DPS) processing technology (40-years in the making), the iP1 will constantly scan your iPod or iPhone-sourced audio to restore, in real-time, harmonics, brightness, clarity and presence undermined by today's music compression formats. It also delivers a deeper, more resonant bass. Boasting fully 100 watts of Class D Biamplified power released through twin 4" glass fiber woofers and matched 1" silk dome tweeters, this unique system will fill the room with spectacular sound. Just ask my neighbors who have surely heard me jamming on my own iP1.

Not surprisingly, iHome Audio's iP1 Studio Series Audio System is feature-rich. Among the standouts is its 4-channel Biamplified digital amplifier that provides clean, efficient, distortion-free output, bass and treble controls, an integrated iPod/iPhone dock that also charges the device, removable speaker grilles, line in jack to play any audio source, component video-out for watching iPod/iPhone sourced video on TV, and a remote control with full menu navigation.

For all of its audio breakthroughs, iHome Audio's iP1 Studio Series Audio System is also a visual delight with its minimalist contemporary design. For all its power, the iP1 has a decidedly small footprint (16. 3"Wx6.9"Hx7.9"D and 8lbs.), and its embedded output devices, dock and controls suspended in museum-quality smoked acrylic give the iP1 a decidedly industrial high-tech look. Got digital music" Get an iP1! (www.ihomeaudio.com)
Fehrenbach Fine Art Jewelery
Eye Candy Series Cocktail Ring - $248.00
Hand Forged and Folded Cuff Bracelet - $156
For the designer jewelery aficionado in your life who likes her baubles to separate her from the pack, look no further than Fehrenbach Fine Art Jewelry. Designer Deborah Marie Fehrenbach's award-winning metal-based creations are bold, exciting and whimsical, commanding attention in the best possible way. Trust me, I know, having worn two of Fehrenbach's contemporary pieces on numerous occasions - and with much fanfare. First is the Eye Candy Cocktail Ring introduced to the marketplace just this season as part of the company's Eclipse Collection. As all Fehrenbach Fine Art Jewelry is inspired by the designer's love of nature, this ring, too, is a homage to her favorite hobby, scuba diving, and her favorite fish, the puffer with its large jeweled eyes. This hand-fabricated Sterling silver ring features a large (approximately 2cm) round three-dimensional silver disk with your choice of semi-precious, lab grown cubic zirconia or resin colored 8 mm channel set stone in its center. This is all is perched majestically atop an architectural adjustable band. A matching bracelet, pendant and earrings are also available.

I've also sported Fehrenbach's gorgeous Hand Forged and Folded Cuff Bracelet. Also from a new Fehrenbach Fine Art Jewelry series, this cuff-style, fold formed and forged bracelet is available in polished 18-karat gold or Sterling silver, or patina copper for a more Earthy appeal. With its hand forged look, even the polished metals will work with both casual and dressy looks. I also personally love chunky jewelry, and at its thinnest point this cuff is approximately 3 full centimeters, flaring to about 4 cm at the ends. Nature and jewelry lovers rejoice! (www.fehrenbachjewelry.com)


Psychic Reading with Justine Kenzer (30-45 minutes/in-person or remote) - $200
In scouring the luxury marketplace for unique and innovative gift ideas, I sometimes run across something entirely unexpected was the case with find. However unconventional, an in-person or remote reading with psychic-to-the-stars Justine Kenzer may be just the ticket for that uber-finicky person who's impossible to buy for, likes to think outside the box and enjoy unique experiences, already has it all, or just likes to know about things. Indeed, Justine offers gift certificates for her 30-45-minute reading sessions, which may be conduced either in person, over the telephone, or even via instant message! As long as the person being read give Justine permission to psychically look in at him or her and those he or she wants to speak about, she's reportedly able to tune into that person on an energetic level and provide specific answers to their questions.

Justine has been a professional psychic for twenty years, helping people worldwide tap into information they don't have access to on their own. As a clairvoyant, Justine claims the ability to clearly see energy just by using her psychic ability. She seeks to use this "gift" to provide spiritual healing that can quickly result in positive change in the person being read's physical world. She's used her psychic ability to do everything from name best selling books, to help business owners hire great people and fire not so great people, to help heal broken hearts. She's even read some of Hollywood's biggest movers, shakers and A-list celebrities, including Eva Longoria, Teri Hatcher, Carmen Electra, and Suzanne Somers. In fact, Justine named Suzanne's two best selling books, "Ageless" and "Breakthrough" both in psychic readings with her.

For my part, I recently did my own reading with Justine an the experience was very positive. She gave me insights into many facets of my life, including my fundamental personality and ambition, business prospects for the upcoming year and where to focus my efforts, medical concerns for myself and others in my family and even marital questions. In all, a fun and fascinating experience. No matter what you personally believe, consider this unique gift for those who would enjoy some insight into their own life and guidance for navigating what lie ahead. (www.psychicgirl.com)


Carmen Steffens Beatriz Slingback Platform Shoe - $198
Carmen Steffens designs and hand-crafts an impressive collection of Brazilian-born footwear, handbags, and accessories sold through over 140 retail stores worldwide (and online). The company has an incredible A-list celebrity following of starlets known for their fashion flair such as Eva Longoria, Christina Applegate and even Mariah Carey, who, incidentally, is the namesake of her very own Carmen Steffens designer shoe - handmade with authentic Austrian crystals ($848) - that she wore in her "Obsessed" remix music video. I, however, have recently set my sights on another of the company's particularly artful designs that any shoe suitor would love: the Beatriz Slingback Platform.

Carmen Steffens Beatriz is a highly versatile slingback shoe that combines smooth black patent Bovine leather with that imprinted with an animal skin pattern, which is carried over to the insole. The Beatriz design also features cute charm that dangles from the buckle, a 1" high platform and a uniquely styled 5" high leather covered heel. The bottom has a non-slip rubber sole etched with the Carmen Steffens logo and various silhouetted images. She'll go from work to a night out on the town in this pair of first-class footwear! (www.carmensteffensusa.com)


Cricket Q-Zone Quiet Dryer - $179.99
Here's a great gift for someone in your own household as you'll all reap the rewards: Cricket's Q-Zone Quiet Dryer. This innovative high performance blow dryer uses patent-pending "Insanely Quiet" technology to create lovely locks without ridiculously loud noise and gluttonous energy consumption. This lightweight device, which is ergonomically designed to suit both righties and lefties, fosters a more serene beauty routine for the user, and will no longer wake spouses and other loved ones, or house guests, when blow drying hair. Its use of ceramic tourmaline technology produces damage-free, moist, shiny and healthier-looking hair without the dull roar associated with normal hair dryers. Ionic technology also dramatically reduces drying time, which is fantastic for those with long hair for whom hair drying is a chore.

Cricket's Q-Zone Quiet Dryer, which comes in an attractive metallic pewter and black design, features two speed and three heat settings, a dual air intake, a cold shot dual position button allowing activation from either the handle or barrel grip, a removable concentrator attachment and a heavy duty eight foot cord. And, not only is the Q-Zone Quiet Dryer a great hair tool, but it is also environmentally friendly and energy efficient - it does the work of an 1875 watt dryer, but only uses 1500 watts of electricity. The packaging is also made from 100% recyclable packaging materials. Green the routine! (www.ulta.com)
Rosy Rings Limited Edition Spicy Apple Candle - $160
You know you've chosen an incredible gift item when the recipient is treated to an olfactory adventure even before the box is opened. I recently had that very experience with Rosy Rings unbelievably fragrant and decidedly gorgeous Limited Edition Spicy Apple Candle - an exclusive, one-of-a-kind gift available only through December 15, 2009. This extremely high-end, hand-made, long-burning candle is a dual-sensory indulgence, as visually stunning and enchanting as its phenomenal scent. This commanding candle (12" L x 7" W x 9" H) represents nature's bounty, and is absolutely bursting with Japanese maple leaves, grated cinnamon, rose-hips, golden berries, clove and crisp apple slices. Two wicks offer fully 300 hours of burn time. Not a person has come into my home without commenting on how incredible it smells - even when the candle is not lit. When I reveal the scent source is this Limited Edition Spicy Apple Candle, the reaction to its elegant appearance is just as exuberant. A perfect home decor item for the table or mantle, this candle gift is sure to be a home run. In addition to this artful Limited Edition piece, Rosy Rings offers a grand array of entirely hand-made botanical, soy and jar candles, boxed botanicals, reed diffusers, and other fabulous accessories and gifts. (www.rosyrings.com)


Burberry London 2009 Limited Edition Holiday Collection Fragrances
For Women (3.3oz) - $84
For Men (3.3oz) - $70
No holiday gift list is complete without a body fragrance and Burberry London's ebullient 2009 Limited Edition Holiday Collection Fragrances for Women and Men are a perfect pick. The company has put an elegant and festive twist on its venerable London line, enhancing the classic and elegant attributes that have made it a scent sensation the world over. First there is the First there is the glam packaging and design. The bottles, which maintain their original signature shapes, are adorned with shiny and glossy fabrics intended to express "the reflections of the Christmas lights the undulate on the surface of the River Thames." The ladies bottle is outfitted with a shiny metallic finish with a hint of pink, while the men's bottle has a masculine glossy charcoal veneer. The outer packaging is also decidedly stylish, both with glossy paper that has a mirror-like finish and a dramatic black logo on a chrome mirriboard background.

But, the proof is in the pudding or, in this case, inside the bottle itself. Both fragrances are simply divine and will duly enhance your holiday party attire. The company describes the woman's scent as having lively and shimmering freshness, a dewy and bright floralcy, a moiré and elegant woodiness. The juicy blend of grapefruit and mandarin opens the composition with a burst of light crossed by the spicy vibration of pink pepper. In the heart of the fragrance glows a very feminine and truly British rose, the English Garden Rose sublimated a dewy cyclamen and lily of the valley. The magnetic trail is based on precious woods and comforting musks. The men's scent is billed as a bright, crisp, fresh, sparkling version of its classic fragrance. The top notes are joyful, with an uplifting cocktail of lemon, green pineapple and blackcurrant buds, not to forget a touch of plum, reminiscent of Christmas. A fresh watery floral note with a hint of lavender gives a particular shine to the heart note. The drydown, whilst directly inspired from the classic fragrance, with its warm, sensual woody character, reveals a clear, air, and vibrant woody-ambery facet. (www.burberry.com)


HoMedics Mini Percussion Massager - $9.99
Now here's a great stocking stuffer idea. Homedics Mini Percussion Massager makes a great gift for anyone who can benefit from some stress relief and relaxation in the course of busy day - and who doesn't want that? This portable, battery operated Mini Percussion Massager from HoMedics - the leader in massage technology - is small enough to fit in a purse or briefcase for a quick massage mid-day - no matter where the user may be. Designed to fit and be used comfortably with just one hand, don't let its size fool you as this mini massager packs a powerful punch! Forget that coffee break and opt for a massage instead to work out those kinks and feel invigorated. Better than vibration, the dual node percussion movement employed by this device mimics a masseuse's hands. And, percussion massage is known to have many applications and benefits, including the reduction of adherent scars, increased circulation, trigger point therapy, lymphatic drainage and more. Homedics Mini Percussion Massager is available in three fun metallic colors - pink, purple, and blue. Available through authorized HoMedics retailers. (www.drugstore.com)

- Merilee Kern
JustLuxé.com's "The Luxe List" Executive Review Editor

The Luxe List product, service and travel review editor Merilee Kern scours the luxury marketplace for new and captivating "musts." Submissions are accepted via e-mail at Merilee@JustLuxe.com. View all of Merilee's Luxe List articles from here (scroll to page bottom).



Ed Hardy Icing Black Label Cell Phone Faceplate

Ed Hardy Icing Black Label Cell Phone Faceplate

Galit Rondin Head Over Heels Bracelet

Taryn Rose Rebel HEIGHT Boots

iHome Audio's iP1 Studio Series Audio System for iPhone/iPod

iHome Audio's iP1 Studio Series Audio System for iPhone/iPod

Fehrenbach Fine Art Jewelery

Fehrenbach Fine Art Jewelery

Fehrenbach Fine Art Jewelery

Justine Kenzer

Psychic Reading with Justine Kenzer

Carmen Steffens Beatriz Slingback Platform Shoe

Cricket Q-Zone Quiet Dryer

Rosy Rings Limited Edition Spicy Apple Candle

Burberry London 2009 Limited Edition Holiday Collection Fragrances

HoMedics Mini Percussion Massager