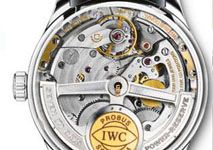 News & Trends:
Yesterday, the Internations Watch Company has officially launched their new iPhone App. Other luxury brands to embrace one of the
5 hottest social media trends
include; Gucci, Chanel, and Bell & Ross. The app is available for free download on iTunes and has capabilities to showcase the entire IWC collection.
Additionally, users can play all of the IWC films, download screensavers, and locate retailers. The "IWC App" enables iPhone users to explore details of the IWC watch collection through images, specifications and unique selling propositions. Even the most complicated mechanisms are explained through digital animations. By holding the iPhone up to your wrist, users can even virtually wear the different IWC models with the "try it on" function.
By Katelyn Lehman