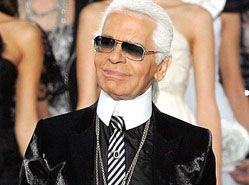 News & Trends:
From photography, to sketching and sculpture, always varied, Karl Lagerfeld will now expand his
fashion
prestige into the world of music film.
The ponytailed icon has made a cameo appearance in the electro-pop group RondoParisano music video also showcasing the international band a in his runway shows.
On the eve of his Chanel Cruise show, Lagerfeld took time out to show a film of his own, "Remember Now" a 17-minute film that pays tribute to St. Tropez, a favorite playground for jet setters and celebrities alike.
The film debuted to an audience that included Diane Kruger, Karolina Kurkova, Vanessa Paradis and Georgia May Jagger, who were present for the Cannes Film Festival.
Karl Lagerfeld told Womens Wear Daily: "When I do a film, I see the movie before I've made it. I don't make scripts because it's written in my head. I like short one-liners."
Starring in the film, actress Elisa Sednaoui noted of Lagerfeld "Karl is a very spontaneous and creative director. He's very responsive and alive for that. There's no indecision, but he adapts himself."