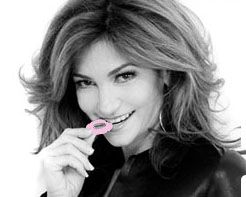 News & Trends:
Star poker player
Beth Shak
is giving JustLuxe the inside scoop as she plays in next week's World Series of Poker Tournament in Las Vegas. Not only will Beth be
Tweeting
live from the tournament all next week, but she'll be doing it in style, sporting a custom pair of luxurious Walter Steiger shoes throughout the event.


Beth Shak is as well known for her fashion sense as she is for her poker face, owning over 1,400 pairs of designer shoes. In the upcoming World Series of Poker in Las Vegas, the largest poker tournament in the world, Beth will be displaying her style and sensibility by sporting a pair of one-of-a-kind, custom high-heels, created in partnership with haute couture bottier Walter Steiger.

The Beth Shak custom shoe is part of the Muse collection, a special collection of platform pumps influenced by Giulio and Paul Steiger, the third generation of the Walter Steiger fashion legacy. The special pair designed just for Beth is hot pink, with her trademark spade symbol stitched into the shoe at the top of the heel. Wearing the "shoe of the moment" is sure to bring luck for Beth as she plans to wear the exclusive pair throughout the World Series of Poker tournament at the Rio All-Suites Hotel & Casino in Las Vegas.

Be sure to check out how Beth is doing as she takes time from the tables and cools her well-heeled heels to be JustLuxe's own special correspondent via the widget in the Las Vegas City Guide.