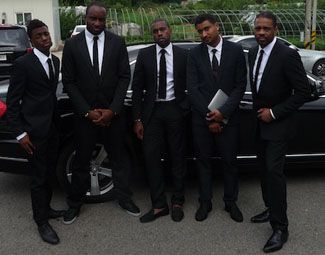 News & Trends:
Kanye West is making good on last year's Swift snafu, using
fashion
to help introduce the world to good old-fashioned manners, starting with the hip-hop world.
Notorious egomaniac Kanye West is apparently requiring everyone associated with his G.O.O.D. music distribution company to dress alike — something he is calling the "Rosewood Movement" a reference to the Rosewood Civil Rights Movement.
The Rosewood Movement was launched in July and uses fashion to promote good manners, no profanity in public, "calling your grandmother" and "taking care of your kids." Past fashion brands worn by Kanye and his associates include Lanvin and Club Monaco.

Currently Kanye and his posse can be seen making appearances around NYC sporting matching Dior Homme suits. More high fashion is said to be on the way, and not just well-tailored suits.

The classic black suits are a drastic change from Kanye's previously brightly colored fashion choices and good manners are a luxury everyone can appreciate.