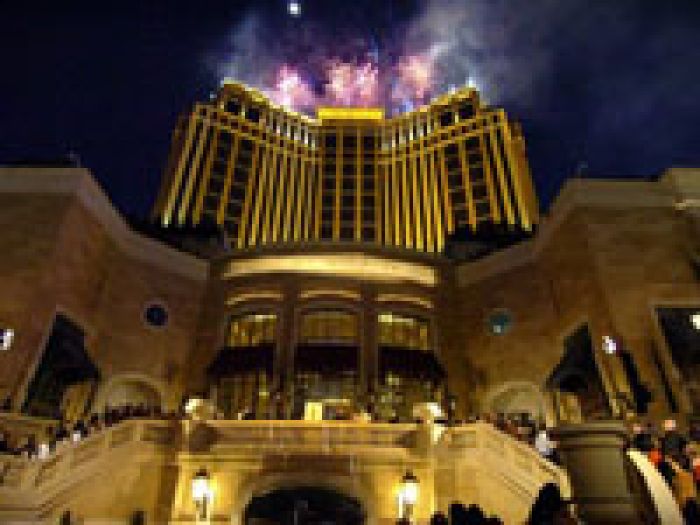 Resorts & Casinos:
The Palazzo
is the perfect complement to the Venetian. The Italian-styled palace is a shimmering 50-floor tower with more than 3,000 deluxe suites. The lobby's lavish two-story high fountains, gleaming bronze columns, and polished marble everywhere welcome guests most regally. Il Palazzo è immaculate!
Overall
Excluding the 11,000 square-foot villas within the palace specially reserved for incoming billionaires, there are six suite types, including concierge-level suites. The Siena suites are the most spacious with 1,280 square feet of space that includes a double-door entrance, an all-marble foyer, a semi-formal dining area, two televisions, and a separate massage tub. There are seven pools with cabanas in a setting of manicured gardens with fanciful sculptures and fountains. The pool area is adjacent to the resort's spa, the Canyon Ranch SpaClub & Fitness Center. Canyon Ranch features a complete suite of aqua-thermal bathing techniques called Aquavana. It is an all-inclusive luxuriant program that soothes, replenishes, and beautifies. Barneys
New York
is the corner store of the Shoppes at the Palazzo, which features more than 50 internationally acclaimed boutiques.
Entertainment & Dining
Hip-hop star Jay-Z 's 40/40 Club is a sports lover's fantasy room and a crossover nightclub with Latin-Soul cuisine. The swanky club is filled with old-school sports memorabilia named after one of baseball's hardest accomplishments to achieve in one season by a ballplayer: hitting 40 home-runs and stealing 40 bases. Players with game are welcomed. The Sala Lounge, the lounge of Dos Caminos, is tops for people watching, dancing to the hottest DJs, and chilling at a curtained cabana or a VIP table. The adjacent Venetian presents live entertainment and major theatrical productions nightly, such as the Tony award-winning musical Jersey Boys and the percussive and eclectic Blue Man Group.
The Palazzo has a haven for every craving with more than 10 restaurants offering culinary options that range from fine dining to casual cuisines. CUT by Wolfgang Puck, Table 10 by Emeril Lagasse, Restaurant Charlie by Charlie Trotter are but a few of the acclaimed chefs behind the diverse menus. French, Asian, Italian, and Mexican cuisines are represented well by Morels French Steak House & Bistro, Mainland, Dal Toro, and Dos Caminos, respectively. The Double Helix Bar offers glasses of wine generally served by bottle only. For both the midnight- and morning-espresso crowd, the first U.S.-based Espressamente illy coffee bar is there to keep guests perky.
The Palazzo and the Venetian are Las Vegas' latest dynamic duo!
For LxM James Rothaar
A bird's eye view of 40/40
CUT, Wolfgang Puck's restaurant in The Palazzo
Jay-Z attending the grand opening of 40/40
The Sala Lounge