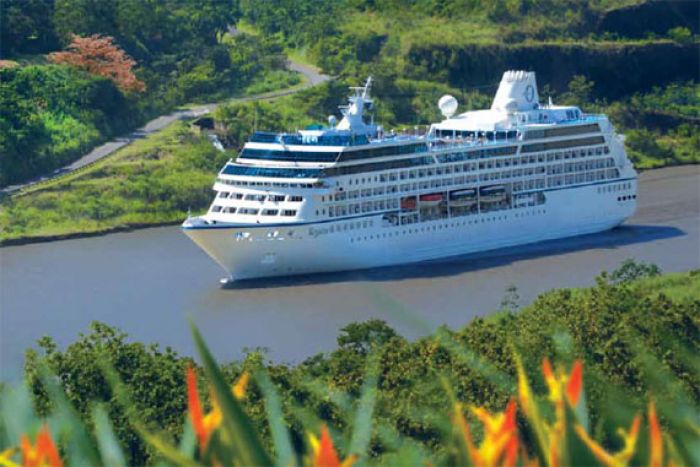 Photo Courtesy of Oceania Cruises
As we sail into spring of 2011, the luxury cruise industry emerges as one area in travel that's smoothly navigated the recession's turbulent waters to wind up ahead of the curve.
New ships, new ports of call and new programs are harbingers of an exciting new year at sea. Here are our top three news items heading into spring:

We've always loved Greece for its history, distinct Mediterranean beauty and big-hearted locals, so it's no surprise that luxury line Windstar-which already operates seven-day Greek Isles itineraries via the two smaller ships in their fleet (Wind Star and Wind Spirit, both with 148-guest capacity) will be sending the larger 312-person-capacity Wind Surf out on a similar itinerary starting mid-July.


Two luxe liners have made their way into American waters recently. Oceania Cruises lovely new ship Marina arrived at port of Miami after a successful maiden voyage from Barcelona. After a welcome party and naming ceremony hosted by ship "Godmother" Mary Hart, Marina departed for her first Panama Canal transit of 2011.

Meanwhile across the continent, the German cruise ship EUROPA (ranked five-plus stars in the 2011 Berlitz Guide to Cruising and Cruise Ships), will head to L.A. in Apri-her first West Coast visit in more than four years! From L.A., EUROPA will head south down Mexico's Gold Coast and from there to Central America and the Caribbean.


In port news, there's a lot of buzz about the long-delayed opening of Falmouth Port in Jamaica. As always, the Caribbean continues to draw most of its winter visitors from the storm-stricken East Coast; and with Jamaica being a favorite Caribbean port-of-call, plenty of regular cruisers are curious about this new addition to the reggae island. Though media access is limited prior to the March 22 official opening, some early reports describe the new port, not surprisingly, as a theme park-ish adjunct to this historic township of Falmouth.

Everyone seems to be most excited about the increased access this will afford to more than 60 land-based excursions on Jamaica's north shore. Falmouth Port seems only prepared to host Royal Caribbean's mega-ships for the time being-including the largest one of all, Oasis of the Seas.

One thing's for sure: This $220 million project spearheaded and funded by Royal Caribbean Limited will change the face of tiny, historic Falmouth town forever.