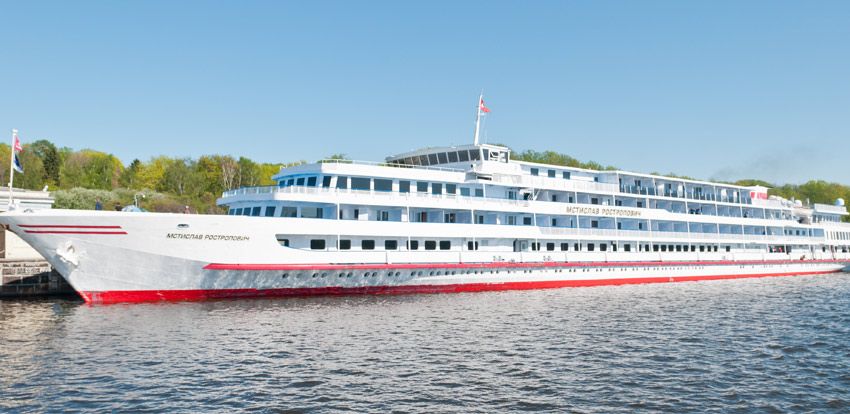 Photo Courtesy of AmaWaterways
Want to do something a little different than the standard cruise in the expected locations? The redesigned Amakatarina is the perfect introduction to the historic views of Russia, giving you an unexpected
luxury cruise
experience. With a guest allowance of 212 and exciting day excursions to some of Russia's oldest cities, Amakatarina strives to bring guests the unseen world of Russian culture and beauty.
With a length of 443 feet and a width of 52 feet, Amakatarina holds 106 different rooms. The rooms come in ten different categories, with sizes up to 432 square feet. With over 70% of the rooms complete with outdoor balconies, each stateroom is styled in crisp whites and warm earth tones. The suites include a sitting area, a bathroom with a shower, TV, plush bedding, a refrigerator, hairdryer, a personal safe, and telephone.
The Amakatarina has two dining areas that serve guests a delicious blend of Russian specialties with international cuisine. With a buffet-style breakfast, guests will surely enjoy their meals while gazing out at a panoramic view of the sea. Aside from the meals, teas and coffees are available at all times, as well as complimentary bottled water.
There are many lovely public areas for relaxed socialization, including a Panorama Lounge with a well-stocked bar, a gift shop, and a Conference Hall for onboard lectures and local Russian performers to provide an evening's worth of entertainment. Also on board for anyone not wanting to miss their fitness routine is a well-equipped fitness room on the Sun Deck. After working out, guests can relax their tired muscles with the onboard masseuse and even spruce up their haircuts with the available hair dresser.

With rates range from $3,599 to $8,598 depending on the suite desired, the best feature of Amakatarina is the exiting itinerary that spans 13 days, taking guests from Moscow to St. Petersburg via the Volga-Baltic Waterway. Visit the historic Kremlin on Day 3 and 4 as you stroll through the streets of Moscow and explore the architecturally impressive Moscow Metro system. If guests would like to check out Moscow nightlife, they can stop for a performance of Kostroma, the famous Russian National Show that combines music, dance, and drama.
Day 8 brings guests to Kizhi, an island that rests at the north end of Lake Onega and is the home to some of the most beautiful wooden architecture found in Russia. Reflecting an early introduction to Christianity, guests can find the Church of Intercession, with its looming walls and 22 domes all without the aid of nails.
With the last four days in St. Petersburg, one of the most romantic cities in Europe, one can visit The State Hermitage, one of the oldest museums in the world. Guests will also explore Peterhof, an amazing Imperial Estate that's also known as the "Russian Versailles." Relax as you stroll the lush Lower Gardens, the Grand Cascade and Samson Fountain.
To learn more visit
AmaWaterways.com