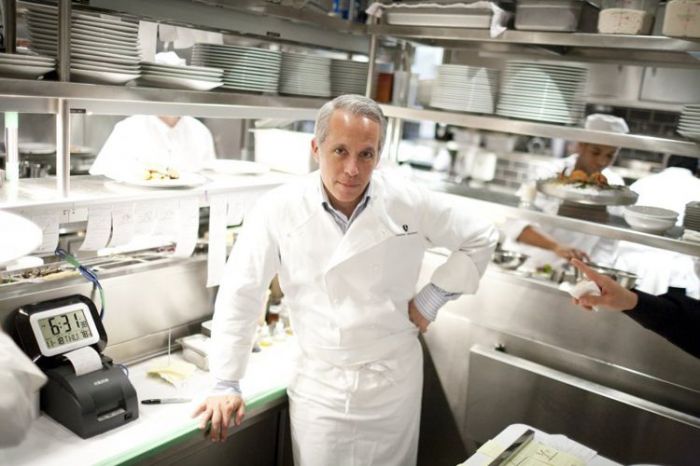 Photo Courtesy of Norwegian Cruise Line
Norwegian Cruise Line recently announced that for their newest ship, Norwegian Breakaway, they have made a deal with celebrity chef and Food Network star Geoffrey Zakarian to create and oversee a brand new
luxury restaurant
, Ocean Blue. The seafood restaurant will give guests everything they would receive in a Zakarian on-land establishment, the same fresh ingredients and techniques, except they will get to experience all of it while aboard a
luxury cruise
.
Known for his career-defining personal style and taste, the Iron Chef will have his hands in nearly every aspect of his new restaurant. He'll plan the menus, have a say in the uniforms, and select the glassware and utensils. He's also planning on having two different dining areas, an elegant dining room and a more casual option called Ocean Blue on the Waterfront. Aside from the dining rooms, the restaurant will have a feature Zakarian calls The Raw Bar. The title is pretty self-explanatory (unless you're imagining sushi in a martini glass) and will be adjacent to the restaurant, highlighting crustaceans and wine. If you happen to be on one of the select lucky sailings, you may even get to meet the man behind the apron when he hosts meet-and-greets, cooking demonstrations, and more intimate cooking lessons for smaller groups of people.
"It is an unbelievably exciting prospect to create a concept for such a groundbreaking ship. I am nostalgic at heart, so the thought of making a modern experience that harkens to the age of steamship travel is just terrific," says Zakarian. "I am planning, preparing and recruiting for this restaurant the same as if I were opening on land, and truly, I have been humbled and inspired by Norwegian's vision to elevate hospitality on the seas."
Norwegian Breakaway is currently being built in Germany at Meyer Werft but she should arrive in her homeport of New York City in May 2013. Norwegian Cruise Line approximates that she will bring an additional 140,000 passengers into the city over the following two years, bringing around $35 million in direct spending. She will be the biggest ship to call NYC home and has plans to embark on weekly summer cruises to Bermuda starting on May 12, 2012. Embarking from the Manhattan Cruise Terminal, Breakaway will begin offering voyages from Manhattan to the Bahamas & Florida, and the Southern Caribbean from October 2013 through April 2014.
We're definitely interested to see what price will be set on dinner with an Iron Chef and will be sure to let you know as soon as we do.
For more information visit
Breakaway.ncl.com