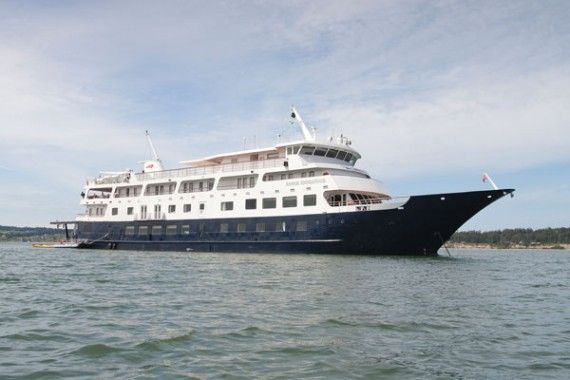 Photo Courtesy of Inner Sea Discoveries
American Safari Cruises has announced the latest addition to its offering of "un-cruise" adventures: an exploration of a UNESCO World Heritage Site & Biosphere Reserve in Mexico's Sea of Cortés aboard the refurbished 86-guest Safari Endeavour. American Safari Cruises' Un-Cruise adventures value quality over quantity, using small yachts rather than giant oceanliners to explore and experience some of the most astounding wildlife in the world.
Past adventures have led luxury lovers to places including Alaska, Mexico's Sea of Cortés, Hawaiian Islands, coastal Washington & British Columbia, and the Columbia River. Each un-cruise celebrates the natural wonders of the world, along with luxury touches including excellent service and wine. The new weeklong adventure sails from La Paz, Baja, Mexico from November through April 2013.
"The stunning desert landscape and rich marine life are the perfect backdrop for an un-cruise adventure," said Tim Jacox, executive vice president of sales and marketing. "We're able to navigate into small coves and access islands inaccessible to larger boats." The inclusive cruise includes all from-the-yacht activities and equipment; a massage, exquisite meals, fine wine, premium spirits and microbrews, as well as all port charges, taxes and fees.
Guests can experience wildlife up close in all optional activities. Waterborne activities on the yacht coincide with dolphins, bluefin, sei, orca and sperm whales and guests can even snorkel with sea lions. Ashore, there are guided tours of historic towns and optional side trips to see gray whales. The yachts can be booked as a private charter or by stateroom. The Sea of Cortés Cruise fares start at US $2,995 and are based on double occupancy.
For more information on the cruise including booking see
InnerSeaDiscoveries.com