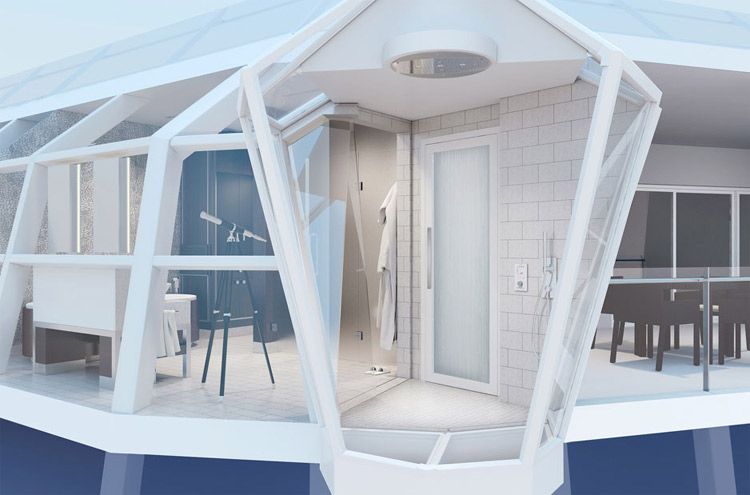 Photo Courtesy of Celebrity Cruises
Celebrity Cruises announced in April that their new 1,600-square-foot Reflection Suite aboard one of its Solstice Class ships,
Celebrity Reflection
, would include a very unique, all-glass shower. They weren't kidding—the space ship looking feature actually juts out over the edge of the ship's 14th deck. With so much talk surrounding this new amenity, the
luxury cruise line
decided to release some renderings so potential travelers could see what they're in for.
So I know what you're thinking—an all-glass shower doesn't exactly sound very private. Don't worry, the company is all over it and even brought in some cool technological aspects to ensure guests have a worry-free experience. "They can enjoy breathtaking sea views while discreetly showering, courtesy of the shower's special reflective glass," said Celebrity's Senior VP of Hotel Operations Lisa Lutoff-Perlo.
"But, if they seek even further privacy, the shower also features 'smart glass.' At the flick of a switch, guests can activate an electrochromatic technology which instantly transforms the glass from transparent to translucent. We even went so far as to install a special sensor, so if guests prefer, the glass can be automatically transformed for them. It's yet another example of the modern luxury experience that only Celebrity delivers."
The Reflection Suite is Celebrity Cruises' first two-bedroom guest room and besides the really funky shower, it comes with a nearly 200-square-foot veranda and 24-hour European butler service. These spacious new accommodations are located next to their five new Signature Suites, which each offer over 400 square feet of living space, a 118-square-foot veranda, floor-to-ceiling windows, and 24/7 butler service as well. These luxury suites can only be accessed with a cardkey, making the area that much more exclusive.
So, I suppose it's safe to say gone are the days of being crammed into a tiny cruise ship bathroom, showering practically over the toilet; now you can feel like you're 'the king of the world' while floating to your next port stop. Just don't get so carried away that you forget to flip that switch! Go to
CelebrityCruises.com
to learn more.