The Daily Meal View Profile

TheDailyMeal
Cruise Ships Set a Higher Bar for Dining at Sea
Posted: Jul. 30th, 2012 | Comments 2 | Make a Comment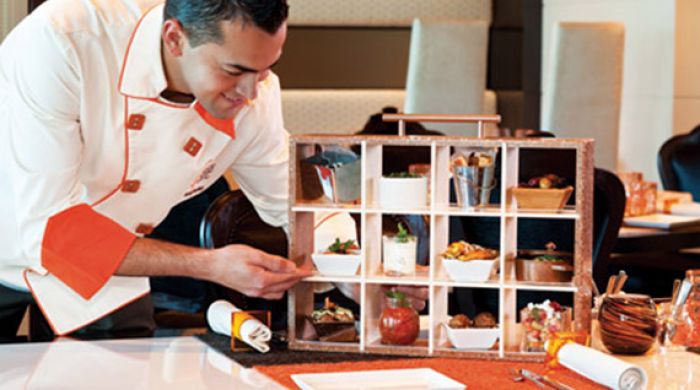 Photo Courtesy of Celebrity Cruises
The Daily Meal went aboard Celebrity Cruise's
Celebrity Summit
ship for a Sunday brunch this weekend to uncover what is new in the cruise industry's culinary world. Held at Qsine, one of the restaurants on
Celebrity Summit
, guests were served an array of gourmet treats and an inside look at how
cruise ship dining
is evolving.

"I think there's a lot of perception out there about what cruise ship dining is… that it's only all-you-can-eat buffets and very classic cuisine," said Scott Steenrod, the director of food and beverage operations at Celebrity Cruises.

One difference between cruise dining and typical restaurant dining on land is providing consistent meals for large volumes of guests. Some restaurants aboard Celebrity Cruises' Celebrity Summit ship, for example, can seat up to 1,000 people and serve up to 10,000 meals a day.

But Celebrity Cruises refuses to let limitations get in the way of culinary creativity. Qsine offers interesting innovations, such as sushi lollipops and iPads, which diners can use to interactively select their orders, see images of their selections, and virtually shake up the ingredients in their cocktails.

Celebrity Cruises is also raising the bar of the quality of chefs brought onto ships. John Suley, a two-time James Beard nominee and the first ever cruise line chef to cook at the James Beard House, is currently the director of culinary operations at the company.

Other cruise lines are also finding creative ways to enhance passengers' culinary experience while at sea. Royal Caribbean, for example, reveals on its blog that they are the first cruise line to feature an all-you-can-drink Coca-Cola Freestyle machine, which is capable of dispensing 125 different flavors of Coca-Cola products, such as Orange Coke and Peach Fanta Zero.

"It was beyond sexy, it was über cool," said Bob Midyette, the director of fleet beverage operations for Royal Caribbean International and Azamara Club Cruises, of the Coca-Cola machine on his blog for Royal Caribbean.

A radio frequency identification is built into the souvenir soda cups, which allows guests to serve themselves for the duration of their cruise, according to Midyette. Despite the innovations, Steenrod stresses the need to maintain a strong reputation and foundation for culinary basics.

"I'm sort of obsessed with the basics," said Steenrod. "Despite all of the excitement and creativity that goes into Qsine, if we can't serve a great cookie, or we can't serve a great apple pie, or we can't serve a great chocolate cake, people will forget the cool stuff we're doing or the more sexy stuff we're doing on top of the fundamentals."

More from our friends over at TheDailyMeal:
You might like :
Geoffrey Zakarian to Oversee New Norwegian Cruises' Restaurant
Related Topics : Cruises, Celebrity Cruises, Fine Dining, Chefs, Luxury Travel
LET'S CONNECT LUXURY NEWS & MORE






Featured Luxury Hotels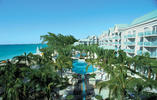 Grand Cayman, Cayman Islands
The Westin Grand Cayman Seven Mile Beach Resort
Fronting the famous Seven Mile Beach, The Westin Grand Cayman Seven Mile...

Scottsdale, United States
The Westin Kierland Resort and Spa
At The Westin Kierland Resort & Spa, enjoy the essence of Arizona from the...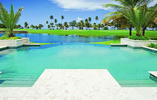 Rio Grande, Puerto Rico
The St. Regis Bahia Beach Resort
In the romantic setting of a Caribbean coconut plantation, nestled between a...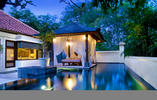 Bali, Indonesia
The Laguna, a Luxury Collection Resort and Spa, Nusa Dua-Bali
Nestled on Bali's finest white sand beach overlooking the majestic Indian Ocean...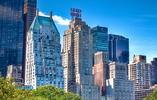 New York, United States
JW Marriott Essex House New York
Having first opened its doors in 1931 in a prestigious Central Park South hotel...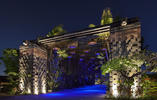 Bali, Indonesia
The St. Regis Bali Resort
Bask in luxury on the soft, sandy beach of Nusa Dua, the Garden of Bali, where...