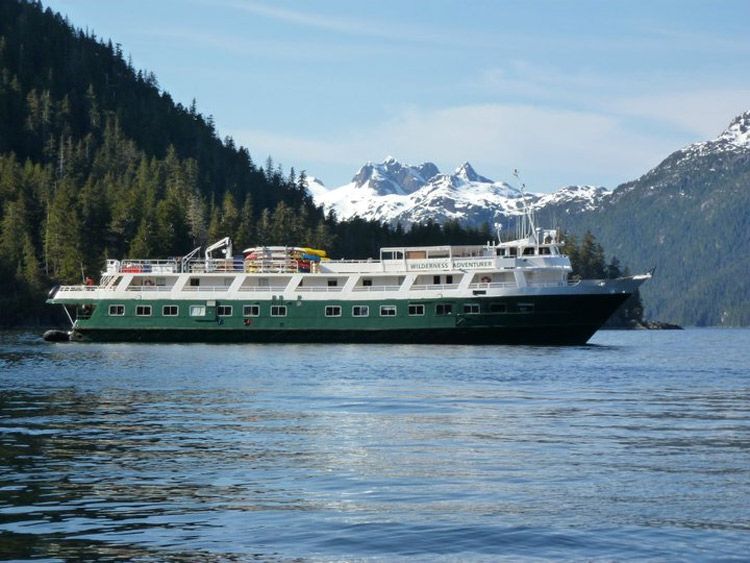 Photo Courtesy of InnerSea Discoveries
If you thought
Alaska luxury cruises
were all about relaxation and whale watching then you haven't heard about Alaska Unleashed. Alaska Unleashed is an 8-day/7-night Southeast voyage cruising from Juneau to Ketckikan, or the reverse, Ketchikan to Juneau. Just the fact that the company's site uses all caps when describing this excursion as EXTREME, should be enough to scare away the faint of heart. InnerSea Discoveries and American Safari Cruises are known for bringing guests to more exclusive and private locales that larger ships don't frequent, or simply can't access—even going as far as to call them "un-cruise" experiences.
Because this is an un-cruise adventure, you won't be spending the days with hundreds of people, but an intimate group of 36 like-minded thrill-seekers. The itinerary reads like some sort of intense weeklong Ironman competition in the woods—nearly non-stop hiking and kayaking through treacherous terrain, as well as flightseeing and sport fishing if that doesn't satisfy. The Captain of the
Wilderness Adventurer
and his expedition team guide travelers to some of the state's most beautiful and unexplored areas, with various guest speakers, exotic wildlife and unexpected weather conditions making each day different and as memorable as the last.
The Ketchikan to Juneau itinerary starts with the journey toward Misty Fjords National Monument where the day's activities will be completely water-centric. Kayaking to the monument and into the southernmost place in Alaska's Inside Passage allows an opportunity to see some indigenous creatures like brown and black bears, mountain goats and seabirds. Skip ahead to day five and find yourself in Thomas Bay surrounded by the most breathtaking scenery in Southeast Alaska. Here, you'll be given two options: two days of extensive hiking and kayaking in the extremely rugged Cascade Creek trail (if you don't have your waterproof hiking boots and gaiters then skip ahead to option #2) where the trail reaches 1,200 feet in just five miles.
Option #2 for those without the proper attire, is a five-mile hike to rarely frequented Patterson Lake. Once the intimate group of 10 or less is there, you'll hop in kayaks (See a theme forming here? Kayak, hike, kayak, hike) and glide down the river to the face of Patterson Glacier. Then a hike back at a very low elevation gain of 750 feet will give a chance to look around and appreciate the striking landscape around the rainforest trails.
Tracy Arm-Fords Terror Wilderness, a region of over 650,000 acres managed federally by the Forest Service, is the focus of day seven. With the
Wilderness Adventurer
nearby, you can kayak the entire day around the curving fjords, hundreds of waterfalls and some of Alaska's largest icebergs; or choose a different way to get around in the water on a standup paddle board.
Head back to the ship to relax (finally!) in the on-deck hot tub before joining the Captain for a farewell dinner and toast to your epic Alaskan adventure vacation. And if you're not feeling ready to qualify for the Olympic kayaking team by the end of the trip then you did something wrong. Personally, I'm exhausted just thinking about it.

Departure dates have been set for Alaska Unleashed cruises in 2013: June 8, July 13 and August 10. Cabin prices range from $5,595 to $7,695 and include all onboard meals, roundtrip transfers and baggage handling between airport/boat, entry fees to national parks/preserves, most from-the-boat adventure activities and equipment; hot tub, sauna, yoga, and a complimentary massage. Visit
InnerseaDiscoveries.com
to learn more.