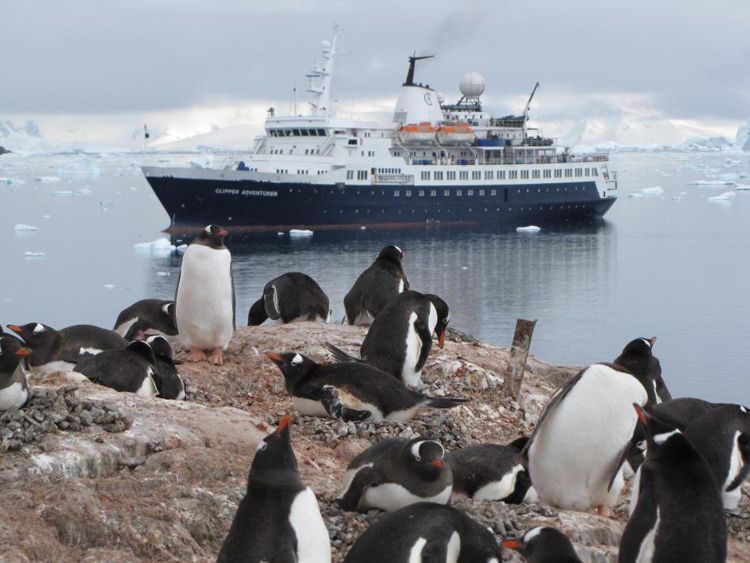 Photo Courtesy of Kensington Tours
Are you considering going on a
luxury cruise
, but are tired of the same old itineraries? Well, you're in luck, because Kensington Tours wants to ship you off to the North Pole. Sound a little extreme and scary? Don't worry, they won't be sending you alone. You will be guided by the impressive Mark Terry, an award winning polar explorer. If you've always dreamt of exploring the unknown but ended up stuck behind a desk, then the 14-day, $23,995 (per person) North Pole Arctic Expedition cruise is probably just the thing you need to put that spring back in your step.
Mark Terry is world famous for his 20 years of documentary film making and will be the cruise's explorer in residence. His latest award winning films will be exclusively screened for guest's educational pleasure during the trip. Terry even won the Stefansson Medal, the most prestigious Canadian Explorers Club honor, for his nature documenting efforts. Experiencing the North Pole through the wise eyes of this expert, is no doubt a safer and more efficient alternative to going with nothing but childlike wonder to guide you on your freezing journey into Santa's homeland.
The tour begins in Helsinki, Sweden, where there are private, English-speaking group tours to showcase the city's historical attractions like Sibelius Monument, the Senate Square, the Olympic Stadium, and the famous Finlandia Hall by Alvar Alto. After that, the cruise ship
50 Years of Victory
, leaves civilization to head through some of the least explored regions in the northern hemisphere including areas around the Arctic Ocean and Barents Sea.
By day seven of the expedition, guests will reach the height of the trip (no pun intended) at the North Pole where they'll enjoy a barbeque, and for those very brave souls out there, a dip in the Arctic Ocean. During day eight, the group travels to Franz Joseph Archipelago to catch a glimpse of polar bears, walruses and Arctic birds in a setting that resembles the moon with large craters and miles of desolate land. If nothing else, the tour promises glacial treks and polar bears sightings with champagne toasts to celebrate the once-in-a-lifetime adventures. You will also likely get a view of the northern lights, an incomparable vision to anything you've ever seen before.

During the voyage, the guest explorers are accommodated in standard cabins and provided with four meals a day, waterproof boots for those snowy journeys, an expedition log, and lots of information to prepare for everything arctic before you leave port. The expedition team and expert guest speakers will be on hand to offer lectures and informal talks to excite and engage cruise-goers with extra knowledge throughout the trip. Guests are also provided with private airport transfers and helicopter rides to and from all shore excursions and activities.
If you are fond of heights, cold weather, and exploring, then The North Pole Arctic Expedition Cruise is the adventure vacation of your dreams. The cruise featuring Mark Terry departs June 30, 2013, but other available dates for 2013 include: June 19, July 13, July 24. And for 2014: June 19, June 30, July 13, July 24.