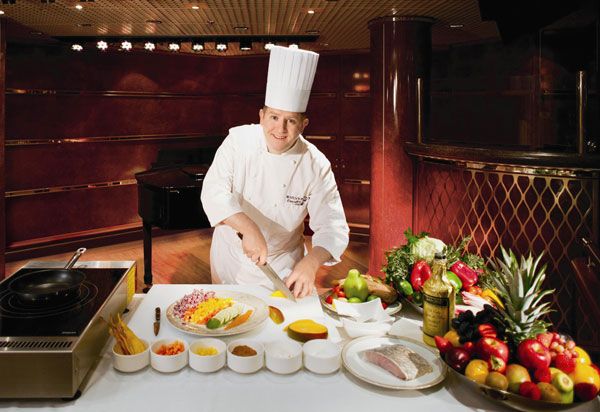 Photo Courtesy of Silversea Cruises
It is easy to see why
Forbes
named Silversea one of the most luxurious cruises last year. Constantly looking to surprise and spoil guests, the cruise line has recently partnered with luxury hotel brand,
Relais & Chateaux
and a former Le Cordon Bleu instructor to bring their guests an extensive education in the culinary arts. Currently, the new program is the only "Relais & Chateaux L'Ecole des Chefs" cooking school sailing the seas.
Renowned culinary instructor David Bilsland and Grand Chef, consulting for Relais & Chateaux, Jacques Thorel will be cruising along 14 voyages this year, to provide the unique cooking school series for Silversea passengers. The program, which is complimentary, allows travelers to experience a culinary curriculum focused around the epicurean culture of the ports on their voyage itinerary. Passengers will get a taste of either Africa, Asia, the Mediterranean, Northern Europe, or the South Pacific, as those are just a few of the sailings that will feature the 'Relais & Châteaux L'École des Chefs.'
Students will be exposed to hands-on instruction in such necessities as basic knife skills, sauce making, baking, and even perfecting wine pairing. The program will include interactive sessions where passengers are allowed to ask the experts their most desperate questions from the kitchen. There's more to life than lectures and demonstrations however, and for a little break from all the learning, Chef Bilsland will compete with the ship's cooking staff to impress and entertain.

On certain cruises, the 'Relais & Chateaux L'Ecole des Chefs' offers passengers a guided market excursion, where they will pick up necessary ingredients to be used in the cooking class that follows. In addition to these educational events, there are also "Culinary Outings," which are trips to local restaurants that provide both instructional and fun experiences of another culture. L'École des Chefs voyages range from $1,950 to $14,550 based on ship and chosen itinerary.